You are working for a company. you need to take some time off from work and want to ask your manager about this.
write a letter in which you:
. Explain why you want to take time off from work.
. Give details of the duration of time you need.
. Suggest how your work could be covered while you are away.
Ans:
Dear sir,
I am one of the working employees in your company. I hold the position of a purchaser in the company. last month, my schedule of work was very busy because I have to go out of the station to work a number of times. so, did not give much time to my family. that's why I want to take leave from work to refresh me and my family.
We plan a visit to a hill station. our trip will be of one week. I want to spend some time with my family and enjoy the beauty of nature. these days, there are holidays in the school of my children and we decide that we will come back at the weekend. in this way, I will refresh my mind and after coming back, I will do my work with more concentration.
I know there would be a problem to complete the work in the company. keeping in view this, I asked my two friends working with me to take charge of my work on behalf of me if you would give permission to do so. they both assured me to do all of my work very efficiently and with dedication in my absence.
I hope you would give permission and grant me leave for one week.
Thanking you,
Yours sincerely,
Smith.
You have been using a local bus service about six months. the service seems to be getting worse and worse. write a letter of complaint to the bus company. in your letter: (1). tell them that the buses not running on time. (2). tell them about the level of cleanliness, and the attitude of drivers. (3). ask them to take some action into this matter.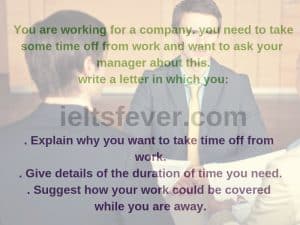 My Hobbies speaking part 2 cue card with answer IELTS EXAM
Write a letter to an English teacher whom you know and ask to borrow some English books to help a child of your friend to study. (1) due details of child. (2) do you plan to teach him or her.(3). which books do you want to borrow.
https://ieltsfever.org/write-a-letter-to-an-english-teacher-whom-you-know-and-ask-to-borrow-2/You are working for a company. you need to take some time off from work You are working for a company. you need to take some time off from work You are working for a company. you need to take some time off from work