DESCRIBE A PIECE OF FURNITURE IN YOUR HOME THAT YOU OFTEN USE
What it is
Where it is
What it looks like
And explain how or why you use it.
I live with my wife in a small rented flat here in Greece. This is a small flat of three rooms altogether and thus I am unable to accommodate less furniture. Among the furniture, the two-seater dining table set is notable and I like it much. Thank you very much for the smart question and I am answering it here gradually.
The dining table is made with oak woods and I have been using it for last two years without any trouble. But sometimes, I am in trouble when I have guests at home. It becomes troublesome for me to accommodate them on the table. Hence, I ask them to use the sofa sets for taking foods. But when I take meals with my wife on the table, it brings a sense of joy to me. Since there are no chairs or seating arrangements, a special mood appears and the moments become too romantic for both of us then.
This is a nicely decorated table with two attractive chairs. The size and shape are small but I think this is the perfect one for both of us. Most of the times, I use the dining table for taking my meals. But sometimes, I use it as my writing table as well. My wife takes care of the cooking and often I help her in this purpose. So, when the meals are cooked, the table is used to place the foods on it before serving. Besides, the dining table is also used for some other purposes like when I enter the apartment, I place the keys and other necessary things on it. After returning from the shop, this is the ultimate place to keep the materials. In fact, the use of the dining table is versatile. It is not limited only for dining purpose alone.
I am sorry that I cannot tell about the frequency of using the dining table as it is used for many times a day. The use begins from the moment we wake up and continues till we go to bed at night. It is used for numerous purposes, as I said before, and even my wife also uses it for her needs. For instance, if we need to place something, we use the table. When guests arrive at home, we use the table to keep the foods and beverages for them. If they bring something for us, we keep that on the table. In fact, it is constantly underused and we have the maximum use of it. So, it is impossible for me to count the frequency of its use in a single day. But whenever I use it, I am extremely careful about the table so it might not suffer any damage. My wife is also careful with me when she uses the table.
The table is special to me. I bought it with the first salary after my marriage back in 2015. It was really hard for me and my wife to take meals at home as we did not have any dining table. So, I made a plan to buy a dining table but did not inform it to my wife. I wanted to keep it as a surprise for her. And she was extremely surprised when I bought the table at home. The table is made of the finest oak wood and thus I was in trouble to bear the cost. But I managed everything and made my wife happy with the table. She also wanted to contribute to the table expense but I did not allow her to do so. For the emotional attachment, the table is special to me.
sample 2
I stay at our own house and my room still gives the impression of a student's room though I have recently finished my graduation. My favourite piece of furniture at my home belongs to my room and it is the wooden bookshelf. This is, in fact, a large bookshelf and it comprises all of my favourite books.
I have this wooden bookshelf for the last 3 years after my parents bought it for me. Initially, I had only a few books to keep there and most of the part of the shelf remained empty. But over the time, my book collection increased and the bookshelf is not almost full.
There are 4 layers of this wooden bookshelf and the front side is made of glass. I read plenty of storybooks and often visit the bookshops to purchase new books. This bookshelf offers a good way of arranging all of my books and secures them with the lock system it has. I often look at my bookshelf and feel kind of proud to have a good collection of books.
My parents bought me this piece of furniture after noticing that I keep books almost everywhere in my room and they thought it would be a good idea to buy me a bookshelf where I would be able to neatly arrange my books. This bookshelf became very handy for me as it helped me keep my books arranged.
Describe a technology you use often speaking cue card
An activity you liked to do most often in your childhood with your friends speaking cue card with answer IELTS EXAM
An activity you would like to do more often ielts speaking cue card with answer IELTS EXAM
ieltsfever cue card example A Website you visit often
In the past, buildings often reflected the culture of a society but today all modern buildings look alike and cities throughout the world are becoming more and more similar. What do you think is the reason for this, and is it a good think or a bad think?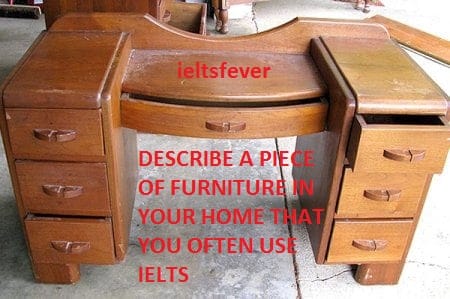 DESCRIBE A PIECE OF FURNITURE IN YOUR HOME THAT YOU OFTEN USE IELTS
DESCRIBE A PIECE OF FURNITURE IN YOUR HOME THAT YOU OFTEN USE IELTS
DESCRIBE A PIECE OF FURNITURE IN YOUR HOME THAT YOU OFTEN USE IELTS
DESCRIBE A PIECE OF FURNITURE IN YOUR HOME THAT YOU OFTEN USE IELTS
DESCRIBE A PIECE OF FURNITURE IN YOUR HOME THAT YOU OFTEN USE IELTS