Describe a development in your country like a shopping center
what is it?
where is it?
what are its benefits?
Simple Answer 1
Although, I belong to a small village named Malliana which comes under district Moga. This is a beautiful village with greenery around it. I have been living there with my family since my childhood.
Even though my village is not very big but it is a developing countryside area. It has modern facilities in it such as a primary school, good electricity, good water supply, a dispensary and so on.
Here, I would like to talk about the development of my village which is recently happened over there.
Luckily, a park has developed in my village because there was no park or another place where people could it and gossip with their friends.
This park has made by new Nagar Panchayat of my village. This park is near to my home either.
Basically, this park has covered a large area of land as well as, it becomes a spot of attraction in my village. This park is divided into two sections. first is the junior section and another one is the senior section.
Certainly, in the junior section, there are swings, roundabouts and other things for kids to play over there as well as, there are beautiful plants and flower which attract the kids most. So, juveniles can play there and enjoy their childhood.
apart from it, in the senior section, the sitting benches set up there for elders and senior citizens. They can sit there and can do gossip with each other.
Lovingly, a morning walk path has also made over there where all the village can do walking as well as, evening walk. I also go there every day to refresh my mind.
Before the development of this park, there was no place where children could go and play. So, they played in allies of the village which had led to accidents with other vehicles so, it brings happiness in my village.
Eventually, this recent development has changed my life as well as, the lives of other villagers.
Simple Answer 2
Today is the world of fashion. with the advent of modernization everybody crazy about fashion. today I would like to talk about development in my country like shopping centers. In the past time, there were not many sources of communication. But with the advancement of technology people easily approach to the cultures of other nations especially west countries. Through media like Tv computer, internet, and other fashion websites.
so the government needs to establish shopping centers in the country which only not fulfill the needs of the people but also becomes an important source of income for the government of the nation. In big cities, government encourages the people who interested in opening big malls by giving subsidies to them and the result is we have seen that big malls are opened and a person can buy anything which he wants under one roof, Different types of clothes of different brands are available in these malls. A large number of people get jobs in these shopping centers and this enhances the economy of the country.
people can also buy their household items there like furniture, crockery, utensils, luggage etc.there is also a different section in the mall which is known as toys world where every kind of toys for children are available for different ages.in some malls male, female and children accessories are divided into different apartments. for instance, if there are items of men on the first floor then of females are on the second floor and of children on another floor for the ease of the customers.so this is a big development in my country.
follow-ups
Q-1 describe the development in your country in past and the present era.
Ans: there is a big difference between the development in the present and past era.in the past time technology was not fully developed.so there was not much development in the past but with the advent of technology, there is development in every field of life.
Q-2 what kinds of developments are undergoing in your country in this modern era?
Ans: there are developments in every field.a new kind of airports, bus stands, railway stations, shopping malls, four-lane roads, underground transport facilities. moreover, computerization prevailed in every sector and everything becomes online. this development changed the face of the world completely.
Q-3 are you living in a developed or developing country?
Ans: I am living in a developing country.i belong to India whose economy is developing very fast.in comparison to past, it achieved enormous success in every field. my country becomes a nuclear power and comes in the most powerful nations of the world.
AUTHOR;
Gagandeep Singh Kahlon
M.A.(English)B.Ed, PGDCA.
Also Read these cue cards 
Intelligent machines such as robots are widely deployed to take the palace of human beings
Talk about a traditional product of your country that you bought
DESCRIBE AN INTERESTING PERSON FROM ANOTHER COUNTRY IELTS EXAM
TALK ABOUT SOME LOCAL FOOD IS COMMON IN YOUR COUNTRY IELTS EXAM
Describe a story that is famous in your country speaking cue card with answer IELTS EXAM
Holidays In Your Country ielts speaking cue card with answer IELTS EXAM
https://www.facebook.com/ieltsfever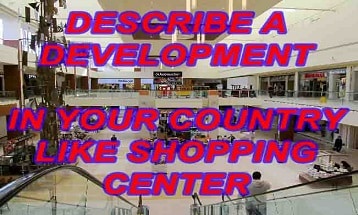 Describe a development in your country like shopping center Describe a development in your country like shopping center Describe a development in your country like shopping center Describe a development in your country like shopping center