Describe a holiday you want to go on in the future
You should say:
Where you want to go?
When would you like to go?
What can you do for the holiday?
Who would you like to go with?
---
well, everyone likes the holiday. it is only a day on which there is no burden of work on our mind. but I would. like to talk about Delhi in the future.
I want to go to Delhi with my friend Mandeep. I like to go there in December which is a holiday. I will book the tickets of Delhi train and go there on the
train with my friend. I heard that every December there is a handcraft fair. there which has handcraft from different arias of Delhi as well as buy some
beautiful handcraft. I would really enjoy it.and then we will go to see the red ford which . located in the center of the Delhi. it would be the enjoyable holiday for me and for my friend, Mandeep. mandeep has been asking me every day about this trip, I feel very happy when I think about it. I would give me relation and burden of office work and refresh my mind. I will go to Delhi soon. I would really enjoy this trip with my friend Mandeep she is also excited about this trip.
(Harpreet Kaur Malliana)
Also, Read
What would be your perfect holiday or vacation look like? ielts exam
Holidays In Your Country ielts speaking cue card with answer IELTS EXAM
Your car is hired by a company and while you are driving on holiday IELTS EXAM
Describe a development in your country like the shopping center
what are Question tags English Grammar ielts exam
https://www.facebook.com/ieltsfever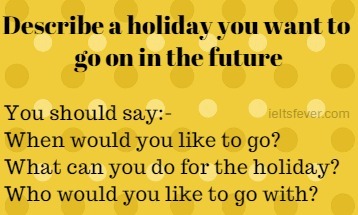 Describe a holiday you want to go on in the future
Describe a holiday you want to go on in the future
Describe a holiday you want to go on in the future