Describe a time you wished to do something but you did not have enough time.
-What was it?
-What was your plan?
-Why you did not do it?
And explain how you felt about it?
Well, I am a college going student. I normally do not have enough time to do other activity except for my studies. But here I would like to talk about a time when I wished to give a present to my friend named Saba. I describe it briefly.
About two years ago, my friend Saba's birthday was on 8th March. She belongs to a middle-class family. So, I wished to give her a beautiful present. Actually, I have been receiving 2000 rupees from my father as pocket money. I have been saving money from my pocket money. Because my loving mom tells me that it is good to save money. The saved money can be used in any difficulty of life.
We are both studying in different colleges. At the day of Saba's birthday, I had an exam in my college. Then, I sent a message to her in order to wish her for the birthday. So, I gave some money to my mother and told her to buy a beautiful present for Saba. I did not have enough time to purchase its own. My mom bought a beautiful dress for Saba and she packed it in a bright gift wrapper.
In the noon, I came back to my home. After taking some rest, I went to Saba's home and I took a birthday gift. So, I reached saba's home. I gave it to her. She felt immensely glad as well as I felt on the ninth cloud. She thanked me.
All in all, when she opened it, she loved this gift. A smile on her face made my day. So, that was the time when I wished to gift something handmade to Saba but unfortunately, I did not have enough time.
Describe an enjoyable event that you experienced when you were a child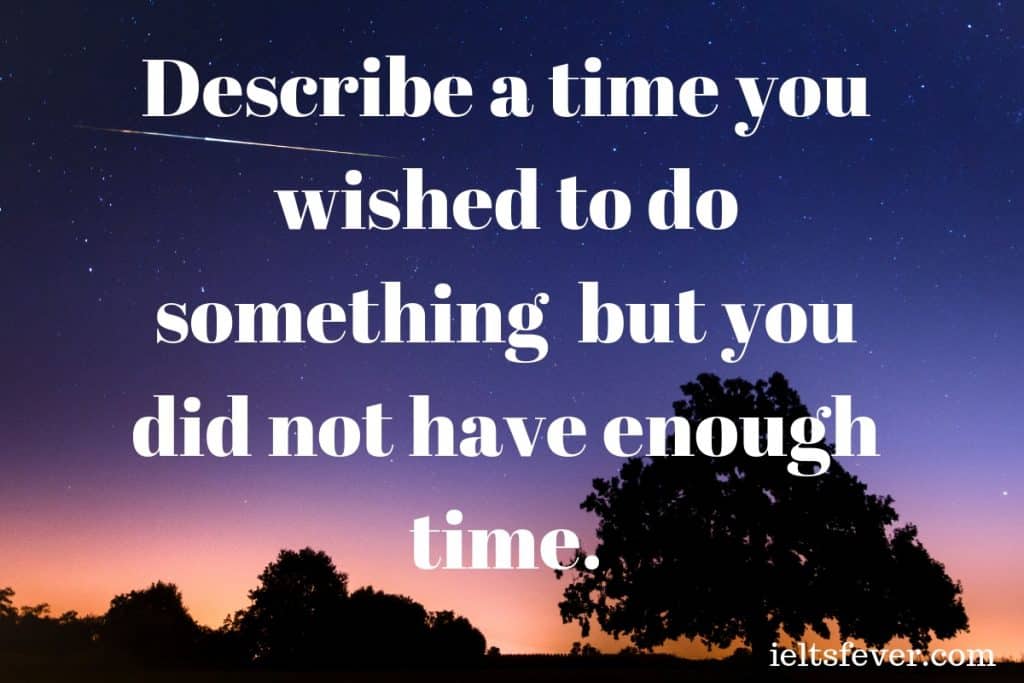 Describe a time you wished to do something but you did not have enough time