Describe an occasion when you were congratulated.
what was the occasion?
when was it?
who congratulated you and why?
Well, There are various occasions occur in my entire life when my near and dear ones congratulated me many times and Here I would like to talk about one of them. Once a time, when I got 87% marks in my 12th standards, then, my relatives, family, and friends congratulated me. I explain it briefly.
About 5 years ago, I had done my 12th class. I was studying in a well-reputed school named SDS senior secondary school, Lopon. There, all the teachers were well-educated and they tried their best to make every student perfect in each subject. I loved their teaching methods.
Trainers in my school provided extra classes for 10th and 12th class. Approximately two months before the final exams, they started teaching us more and more in order to help us to achieve good marks. At that time, I had appeared in all the final exams. I performed my best in every exam in my 12th standard.
The result came out to two months after the examinations. Every year, The result of 10th and 12th has been publishing by the education board of Punjab. After one and half months from my 12th exams, I read news of my result in the newspaper. I felt gloomy and nervous.
Then, the next day, the result was released on the internet. I checked it with nervousness. Fortunately, I got 87% with A+ grade in all the subjects in 12th standard. I felt highly elated. I shared this news with my family and relatives. Everyone congratulated me for my success and they asked about a treat for such a great pleasure.
Eventually, I gave them a party. We enjoyed a lot. They congratulated me again and thanked me for the party. I will never forget this sweet memory of my life.
If you speak about this cue card, then, you will become able to speak the answers of the following cue cards:-
[1] Describe a memorable event in your life.
[2]Describe one of your achievements.
[3]Describe the happiest moment of your life.
[4]Describe something exemplary you did. 
[5]Describe an event when people applauded you.
A gift (such as a camera, a soccer ball, or an animal) can contribute to a child's development. What gift would you give to help a child develop? Why? Use reasons and specific examples to support your choice.
In some countries, small town-center shops are going out of business because people tend to drive to large out-of-town stores. As a result, people without cars have limited access to out-of-town stores, and it may result in an increase in the use of cars. Do you think the disadvantages of this change outweigh its advantages?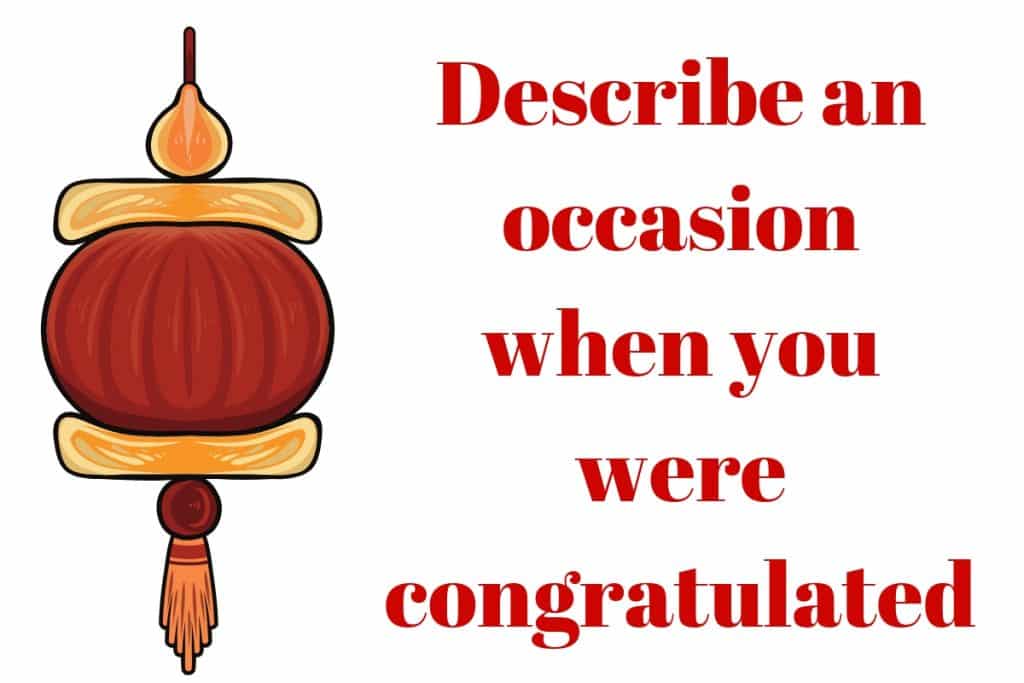 Describe an occasion when you were congratulated 10th and 12th 12th class final exams 12th standard out-of-town stores IELTS exam