Describe your most favorite music band or singer you enjoy listening to:-
You should say
-What's the name of the band and the band members?
-How long do you listen to their song?
-What is some famous song from this band?
Sample 1:- 

  
Well, music played an important role in everyone's life. Without music, we cannot imagine our life because we need music to celebrate each and every occasion. I am not exceptional from others, I also love to listen to music.
Here I would like to talk about a "swaraag" music band which I love to listen again and again. This music band is created by Ustaad Mohamand and his son. In this band, there is a total of six members. Each member of this group has vocal quality as well as a great knowledge about the musical instrument. They started this band in 2002 through performing a live concert. however, in 2018, they participate in a musical competition the rising star. With the help of this competition swaraag band gained a lot of popularity whole over the world.
When I listen to this band first time on the set of the " the rising star". I am becoming a big fan of this band group. because they create indo-western music which I like most. they sing a song to combine two different genres such as folk+rock or sufi+rock. To add to it, the way they present a song to the audience is totally amazing. Moreover, they play a different instrument just like a pro and song of this band forces the people to tap their feet on the floor. all in all swaraag band gained name and fame due to their fusion version. According to my point of view, they took the music industry at the next level.
Sample 2:-
Well, I love to listen to music. I have heard a plethora of songs which had sung by music bands. But here I would like to talk about my favorite music band named "Maan Music Band" which established unbelievable popularity in India. This band had established by a famous Punjabi folk singer "Anmol Gagan Maan" about five years ago. I explain it briefly.
I have been listening to their songs since my school life. "Maan Music Band" has lots of famous songs such as Punjab's traditional folk songs such as Jagga, Heer-Ranjha, Soormey, as well as other songs such as  Bullet, Honsla, Sooraj and so on. There are numerous reasons which are responsible for my likelihood of it.
Firstly, this music band performs in an open space such as a ground or a park. So, a crowd of people can watch their performance. Secondly, all the songs of this music band like by every age of people. For instance, the head of this music band is the most popular Punjabi singer and she knows the Punjabi tradition properly. She sings folk songs of Punjab in order to put her contribution in the Punjabi folk Lore. Every person likes her great enthusiasm and dare.
Moreover, This music band is a group of girls who are well-educated and they know to play musical instruments. A few years ago, people thought that women are only for living in the four walls of the house and they can't manage everything with their own efforts. But through this band, Anmol Gagan Maan advised to all people that men and women both are equal as well as both can do the same works such as working in the crop yields, water to the crop, do business outside the house and so on. Anmol Gagan Maan starts every concert of her music band with a lecture for building a belief and respect for ladies in individuals.
Eventually, Anmol Gagan Maan puts her contribution to improving the condition of a girl in society. I love this music band. Many times, I visit the concerts of  "Maan Music Band". But some times, when I am unable to go there, at that time I watch the live concert of this music band with the help of a social site YouTube. So, this "Maan Music Band" is my favorite music band.
favorite singer, you enjoy listening to:-
who is it?

why do you like listening to their music
Sample 1:-
Well, India is a diverse country and there are numerous of the singer who has a great vocal quality. I like many of them such as A.R Rehman, Sunidhi Chauhan, Babbu Maan, Daljeet Dosanjh however, Gurdaas Maan is top of my favorite list.
He is a living legend in the music industry. he is a famous Punjabi singer as well as, a good actor. he started his career when he was young through performing in college competition. although his age is 60+. he has a unique and fascinating voice which attract everyone. till now, he performed more than 300 sings for the Punjabi industry. each and every song which is sung by Gurdaas Maan has some unique message. He is down to earth person. he is multi-talented for example, he is a songwriter, choreographer, actor, director, singer, and social worker as well.
He has sung so many beautiful songs such as Roti, Jogiya, Boot polishan but the name of the song is "Desh' which admire me most. First of all, the melody of this song is so soothing. secondly, this song has 2 different messages. First is never say anything wrong about your country where you live. Second is everyone has some good qualities. apart from it, I love to listen to his songs whenever I have free time. according to my perspective, he is the best singer who sings a song in a versatile way with full of energy.
Sample 2:-
Well, music is very important for me because when I fell stressful and tired. So, that time I prefer to listen to music to relax as well as, I have a huge collection of old and new songs.
But here I would like to talk about my favorite singer. Well, I most prefer to listen to Punjabi music and, I also like Punjabi singer his name is Parmish Verma. He was born on 3 July 1990 in Patiala.
Interestingly, He is not the only a singer. He is also known as Director, producer, model, and actor. Moreover, he is a very successful person as well as, famous in the last years.
The most important thing, singing is not his profession and he started the career as a filmmaker. he also faced many troubles during teenage. He drops out the college in Punjab and, went to Australia in search of better opportunities and a better life.
However, Parmish came back to Punjab after leading a struggling life there. He was determined to build a career in the entertainment field. The first step he put in the industry by the video "Zimmewari bukh te doori" in 2014 which is described his struggle in Australia.
But, now every child knows his name. He has sung amazing songs like ja ve ja, sab fade Jaan gye, chirri udd kaa udd, kache pakke yaar and so on. I always listen to his song because I am also a student and, I face a new problem in daily life. When I listen to his songs and that time think its suit on my situation.
That is the main reason I prefer to listen to his songs and watch movies. His songs and movie always influence and motivate me.
At the last, not a least, In Parmish Verma every song and video give a good message to everybody. In song kache pakke yaar he tells about international students life and they face all troubles in very positive for the best future. According to me, he is the best person in the world who achieve success after facing a lot of failures in his life.
Follow-ups questions:-
Question:- What kind of music is popular in your country?
Answer:- Well, in my country different types of music are popular but people more prefer to listen to pop music and folk music as well as, individuals have much different taste and there are some concerts for classical and rock music. Moreover, folks always love to listen to traditional music on wedding functions and parties.
Question:- What do old people like to listen to?
Answer:- According to me, the old age group most like to listen to old traditional music and soft music which gives the relaxation to mind. with it, they do not like to listen to pop or heavy music on high volume. For example: my grandmother, always prefer to listen to the radio station and that television channels which provides news, traditional and classical song and so on.
Question:- Do you play any musical instruments?
Answer:- No, I do not play any types of musical instrument during my school and college life because that times my school and college did not provide particular music teacher and instruments. Furthermore, I also do not have the interest to learn and play.
Question:- Does the music industry prefer to make more money than producing good music?
Answer:- No, not really good music makes a large amount of money. for example: if the singer uses his or her singing skills and good vocal, then he can earn a lot of money. if a singer prefers to earn money instead of singing better songs then he or she cannot earn money because money sounds good but only good sounds can make money.
It is generally believed that some people are born with certain talents like sport or music but others are not. however, it is sometimes claimed that any child can be taught to become a good sports person or musician. discuss both the views and give your own opinion. give reasons for your answer and include relevant examples from your own knowledge or experience.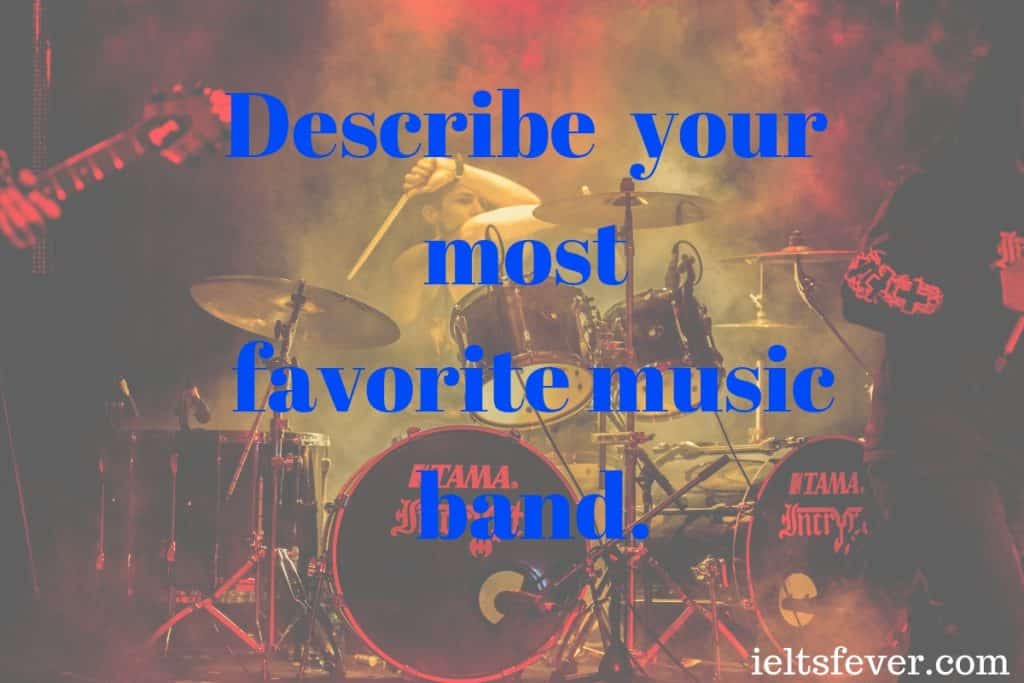 Describe your most favorite music band