Each year the crime rate increases. What are the causes of crime and what could be done to prevent this rise in criminal activities?
---
Crimes are increasing rapidly day by day just like fire in wild. Nowadays, murder, bank robbery,rape,hacking. These types of crimes rate are rising continues. There are numerous reasons why it happen and some suggestion how to tackle these problems.
First and foremost reason of crime is unemployment. When person do not have job then they choose wrong path to earn money. In crime research survey, it is clear that 60% criminals are jobless. Furthermore, competition also effect on crime rate. We are living in competitive era and nowadays everyone in rush to achieve more and more income. If somebody is not able to complete with others then they try to success in illegal way. sometimes, people feel jealous so they only think about themselves and due to this jealous they commit crime.
Moreover, moral values taught us what is right or wrong. Persons who do not have moral values always select wrong way which is quite dangerous for him or other. Last but not the least, media plays the important role to increase crime. People mostly what they watch and they try to imitate it.For instance, there are so many crime investigate programs running on Television.  After watching these types of serial people try to copy it.
Every problem comes with possible solutions If the criminals are aware about the penalty or punishment related to crime then they will not involve in these crimes. In addition to it, government should also implement some some strict rule related to crime so that criminal avoid it. Apart from that, job opportunities should be provided to educate persons.
To put in nutshell, I pen down saying that crime is a big problem but it can be solved with awareness. One thing also consider implement rules for crime not for criminals.
Nowadays some individuals behave in an anti-society way, such as committing a crime. In general, it is the society to blame. What causes the anti-social behaviours of individuals? Who should be responsible for dealing with it?
Report research suggests that majority of criminals who were sent to prison would commit crimes when set free. What do you think of this case? What to be done to solve this problem?
Some people think that criminals should be given longer terms in prison, so as to reduce the crime rate. To what extent do you agree or disagree?
People are encouraged to get rid of things in order to get the newest fashion and the latest technology . Do the disadvantages of a throwaway society outweigh the economic advantages? ielts exam
https://www.facebook.com/ieltsfever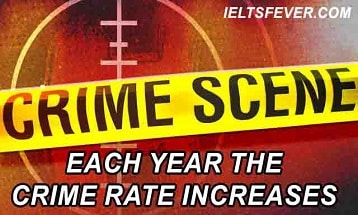 Each year the crime rate increases. What are the causes of crime and what could be done to prevent this rise in criminal activities
Each year the crime rate increases. What are the causes of crime and what could be done to prevent this rise in criminal activities
Each year the crime rate increases. What are the causes of crime and what could be done to prevent this rise in criminal activities