general reading practice test 26 Evening Courses , Performance-related pay , Marine Ecosystems , The Wadden Sea, Benefits for staff of Hamberton Hospital
Please download the PDF file offline and give exam for any information contact at [email protected]
ieltsfever-general-reading-practice-test-26-pdf
answers-ieltsfever-general-reading-practice-test-26-pdf
you can also download in zip file password= "ieltsfever.com"
ieltsfever-general-reading-practice-test-26-ZIP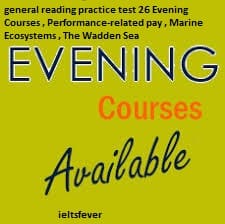 Read the txt below and answer Questions 1-7
Evening Courses
A   Cooking for today
These are classes for those of you who can already make basic meal by keeping strictly to a simple recipe, but who would now like to use your imagination as well . We 'll learn how to make great family meals , discovering how to develop basic recipes into personal creations, with a few tricks and tips to help you become more confident.
B Entertaining the easy way
This course has plenty of ideas and tips for special occasions that you can enjoy preparing , love eating and be proud to provide. The recipes are adaptable to needs and lifestyle , building on your current skills and aimed at developing your own cooking style.
C Cooking for the family
keep course aims enable students to create silver jewelry . You first project will be make a silver ring and then you will have an opportunity to create another piece of your design. The is an introductory course. Base metals are supplied free. Please wear suitable workshop clothing and bring a notebook and pen.
E      photography
This course will allow you to take full advantage of your digital camera . Covering portrait , landscape and still-life photography , the classes will include effective use of lenses and lighting . to really benefit from the course , learners should have time to read ahead between sessions.
F    Creative writing 
Come and learn how to have fun with stories and other kinds of creative writing We will try out some new ideas and techniques for improving style and waking up the imagination , Writers who have not taken the foundation class will also be able to join , Provided they already have some experience of the subject.
Questions 1-7
Look at the six advertisements for evening courses , A-F
For which evening course are the following statements true?
Write the correct letter, A-F  , in boxes 1-7 on your answer sheet.
NB    You may use letter more than once.
1  After taking this course , participants will be able to teach their skill to others.
2  Participants will be expected to prepare at home for each class.
3  Certain materials will be included in the course fee.
4  This course aims to teach people to prepare meals for guests.
5.   This course will help participants to make the best use of a certain item.
6.   This course is for people who want to do more than follow instructions.
7   Following this course should improve participants health.
general reading practice test 26 Evening Courses , Performance-related pay , Marine Ecosystems , The Wadden Sea, Benefits for staff of Hamberton Hospital
general reading practice test 26 Evening Courses , Performance-related pay , Marine Ecosystems , The Wadden Sea, Benefits for staff of Hamberton Hospital
general reading practice test 26 Evening Courses , Performance-related pay , Marine Ecosystems , The Wadden Sea, Benefits for staff of Hamberton Hospital
general reading practice test 26 Evening Courses , Performance-related pay , Marine Ecosystems , The Wadden Sea, Benefits for staff of Hamberton Hospital