Follow-Ups Describe a time that you were waiting for something
Question: Do you think patience is important?
Yes, patience is very important. Everything takes time. Nothing can be achieved instantly. Patience helps to wait for things. If we are not patient, we tend to finish things hurriedly, which spoils things.
Question: Why is it difficult for children to be patient?
There are many reasons behind this. Children are not that mature. They don't understand many things. So they find it hard to have patience.
Question: How to teach children patience?
They can be taught in many ways. Parents can become good role models for them and tell them nicely that everything takes time. They can also be taught through stories such as the hare and the tortoise. The hare runs fast and is not patient, whereas the tortoise patiently and slowly completes the race without resting and wins ultimately. Children can be taught that even if someone is better than them at something, they can still beat that person by their perseverance and patience.
Question: Would you easily feel angry when you wait for a long time?
I am myself very punctual and don't like to keep anyone waiting for me. So, I would definitely feel angry if I have to wait for long. But then, I would also understand, if the other person is late for some genuine reason.
Question: Have you ever been late for meeting someone?
Normally, I am very punctual and don't like to keep anyone waiting for me. But, I remember, once I had to meet my friend in Delhi, and I got stuck in a traffic jam. I was late for no fault of mine and so I called my friend and told her about my predicament. He understood and was very patient.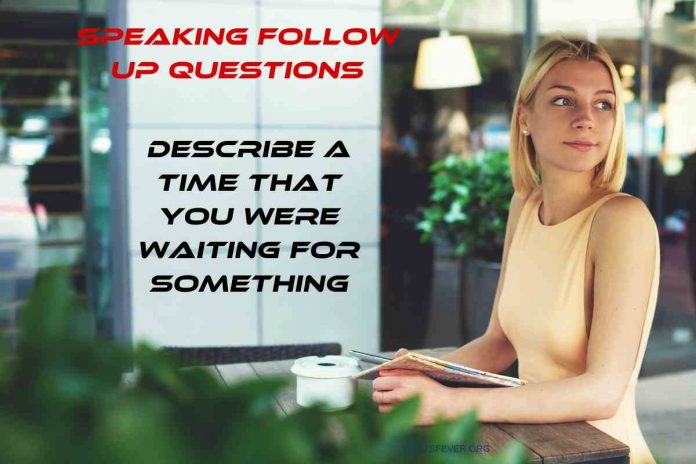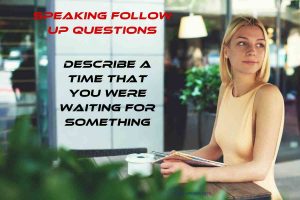 ---
This is the end of the post (Follow-Ups Describe a time that you were waiting for something)
Also, Like Us On Facebook for regular updates A