general reading practice test 21 Tetanus Injection , VISITING MELBOURNE? , Photocopy cards , Portshead Community College , STUDENT ACCOMMODATION , Foster Families in Rwanda ielts exam
Download the following PDF files printout and see your level in Reading
ieltsfever-general-reading-practice-test-21-pdf
answers-ieltsfever-general-reading-practice-test-21-pdf
you can also download in zip file password= "ieltsfever.com"
ieltsfever-general-reading-practice-test-21-ZIP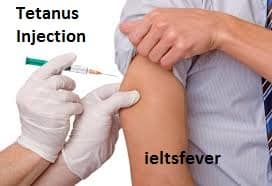 Questions 1-5
Look at the advertisement for cheap theatre tickets. Match the information about the service with questions A-F in the picture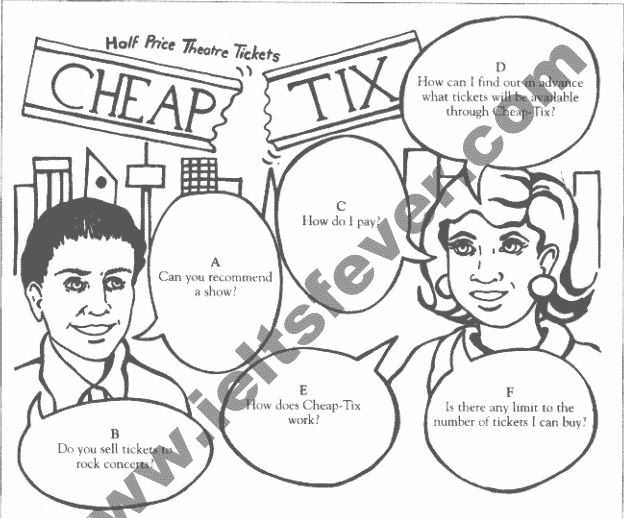 Example
CheapTix staff are theatre lovers too. They see almost show in town and can give advice on a show to suit your requirments. Tourist maps and brochures are also available at the cheap-Tix booth
Answer — A
In a word …….'cash' . Credit cards , cheques or travellers'  cheques are not accepted.
Tickets available to shows all over town are collected each morning from theatre box offices and tickets agencies and are offered for sale from 10 a. m. at the cheap-Tix booth in the city mall.
Cheap-Tix does not offer advance bookings or sales information. Customers must come in person to the cheap -Tix booth on the day of performance. Shows available are listed on the bulletin boards . There is no direct telephone link with the Cheap-Tix sales booth.
Anyone who goes to the Cheap-Tix booth can buy whatever tickets are available , making the service ideal for groups.
Cheap tix will sell to any show it can get . This includes rock concerts and musicals
Questions 6-9
Read the following advice about preventing tetanus.
Do the statements that follow agree with the information given in the text ?
in the boxes 6-9 on your answer sheet write :
TRUE                                      if the statement is true
FALSE                                     if the statement is false
NOT GIVEN                             if the information is not given in the passage
Tetanus Injection
All wounds carry a risk of infection . Dirty wounds in particular carry a risk of tetanus infection. the bacteria that cause tetanus are present in the soil and in animal faeces . If they get into a wound they multiply very rapidly. Tetanus is a serious , potentially fatal condition. it can cause muscle spasms and leads to lockjaw . It can be prevented by tetanus injection.
have regular  tetanus injections. A booster is recommended every five years. Always check that you are covered after any injury where the skin is broken.
Be particularly sure that children have regular tetanus injections . They are more prone to falling over and getting dirt in a wound than adults
Teta nus can kill you.

Household pets should be given tetanus injections.

A single tetanus injection provides permanent protection.

children have a higher risk than adults of getting tetanus
general reading practice test 21 Tetanus Injection , VISITING MELBOURNE? , Photocopy cards , Portshead Community College , STUDENT ACCOMMODATION , Foster Families in Rwanda general reading practice test 21 Tetanus Injection , VISITING MELBOURNE? , Photocopy cards , Portshead Community College , STUDENT ACCOMMODATION , Foster Families in Rwanda general reading practice test 21 Tetanus Injection , VISITING MELBOURNE? , Photocopy cards , Portshead Community College , STUDENT ACCOMMODATION , Foster Families in Rwanda general reading practice test 21 Tetanus Injection , VISITING MELBOURNE? , Photocopy cards , Portshead Community College , STUDENT ACCOMMODATION , Foster Families in Rwanda