IELTSFever FREE Online Mock Test Day 118 Recent Exam Tests Must Read These Instructions before participating in Exam.
The answer to every question is mandatory; otherwise, we will not accept it. Send your answers to [email protected] with your name, city along with the question Test Number like IELTSFever FREE Online Mock Test Day 118 ( in the subject field of email), and you must send us the answer within 24 hours of the question.  We will not respond to late answers, and without a name, question no answer will be considered. For any help, you can contact on IELTSfever Facebook Page regarding IELTSFever FREE Online Mock Test Day 118 Recent Exam Tests.
Academic Writing Task 1
The bar chart shows the number of visitors to four London museums. Summarize the information by selecting and reporting the main features and make comparisons where relevant. Write at least 150 words.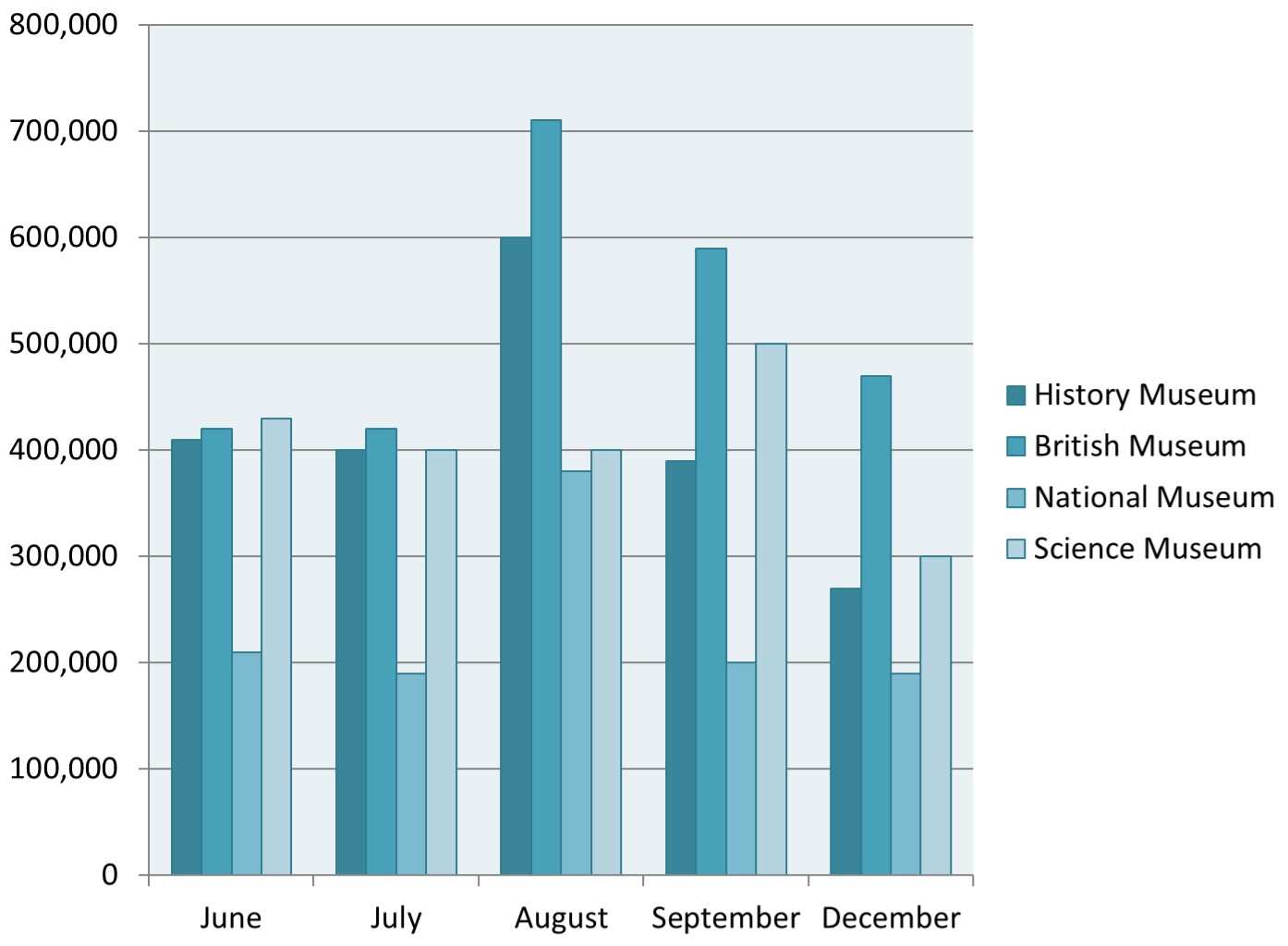 General Writing Task 1
You are in a high-rise building, which has a communal laundry room. Sometimes people don't come in time to empty the machines and other residents have to wait for a washer or driver. You think the building management should purchase 10 extra laundry baskets and make them available for such times, so the machines can be freed up.
Write to the Property Manager, Mr Watson. In your letter:
Explain how long you been a resident
Describe the problem
Propose your solution
General / Academic Writing Task 2
Competition for university study is becoming increasingly strong. Why are universities becoming more competitive? Is this a positive or negative development?
Academic / General Speaking
Part 1 Haircut 
How often do you have a haircut?
How long have you had your current haircut?
Have you ever had an unhappy haircut experience?
Do you like to have your hair cut?
Part 2 Cue Card
Describe an Event You Attended in Which You Didn't Like the Music Played.
You should say
What was the event?
Where were you?
What music was like?
And explain why you didn't like the music?
Part 3 Follow-Ups
Why do so many young people spend a lot of money on concerts?
Do you think older people like the same music as young people?
Do you think music concerts are suitable for old people to attend?
Why do shopping malls often have background music?