IELTSFever FREE Online Mock Test Day 124 Recent Exam Tests Must Read These Instructions before participating in Exam.
The answer to every question is mandatory; otherwise, we will not accept it. Send your answers to [email protected] with your name, city along with the question Test Number like IELTSFever FREE Online Mock Test Day 124 ( in the subject field of email), and you must send us the answer within 24 hours of the question.  We will not respond to late answers, and without a name, question no answer will be considered. For any help, you can contact on IELTSfever Facebook Page regarding IELTSFever FREE Online Mock Test Day 124 Recent Exam Tests.
Academic Writing Task 1
The diagram below shows the manufacturing process for making sugar from sugar cane. Summarise the information by selecting and reporting the main features, and make comparisons where relevant.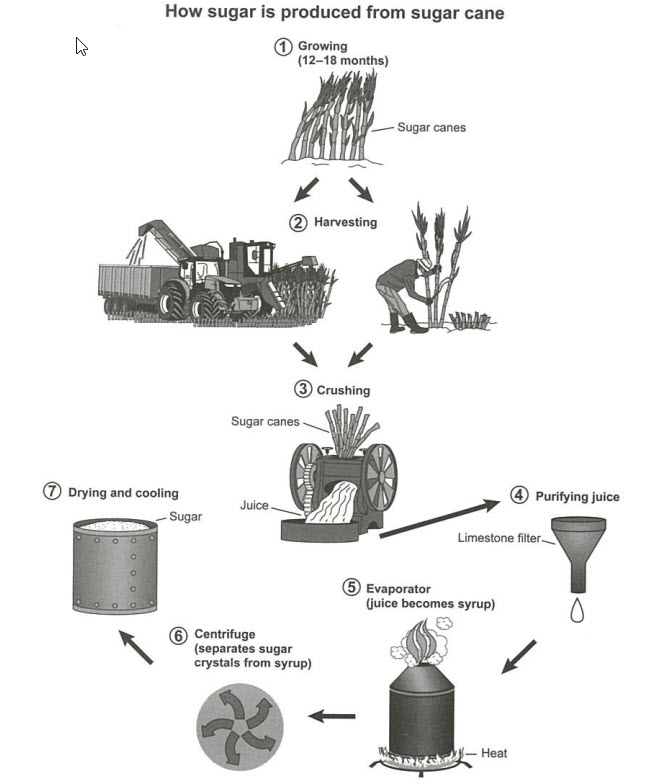 ---
General Writing Task 1
You had gone to study in another country. But you had to come back to your country without finishing the course.
Write to your teacher. In your letter:
Thank him/her
Tell him/her why you had to leave
Tell the things you liked about the course
---
General / Academic Writing Task 2
In some countries, people have more money to spend than they had earlier, due to which they are buying more and more things Do you think it is a positive development or negative?
---
ACADEMIC / GENERAL SPEAKING
Part 1 Break
Do you like to watch movies or TV shows that make people laugh?
Do you usually make your friends laugh?
Are you the kind of person who makes people laugh?
Do you think it is important to laugh with friends?
Part 2 Cue Card
Describe a Time When You Had to Wait in a Long Queue/line.
You should say:
when it was
how long the queue/line was
what it was about
and explain how you felt about waiting in this long queue or line.
Part 3 Questions
What do people like to do while waiting in line?
Do Indian people often wait in the queue?
Do you think the development of technology has reduced the time people have to wait in queues?
What do you think who cut in line or Jump the queue?
How can companies improve their customer service?