IELTSFever FREE Online Mock Test Day 157 Recent Exam Tests Must Read These Instructions before participating in Exam.
The answer to every question is mandatory; otherwise, we will not accept it. Send your answers to [email protected] with your name, city along with the question Test Number like IELTSFever FREE Online Mock Test Day 157 ( in the subject field of email), and you must send us the answer within 24 hours of the question.  We will not respond to late answers, and without a name, question no answer will be considered. For any help, you can contact us on the IELTSfever Instagram Page 
IELTSFever FREE Online Mock Test Day 157
Academic Writing Task 1
The diagrams below show the life cycle of the silkworm and the stages in the production of silk cloth. Summarise the information by selecting and reporting the main features, and make comparisons where relevant. Write at least 150 words.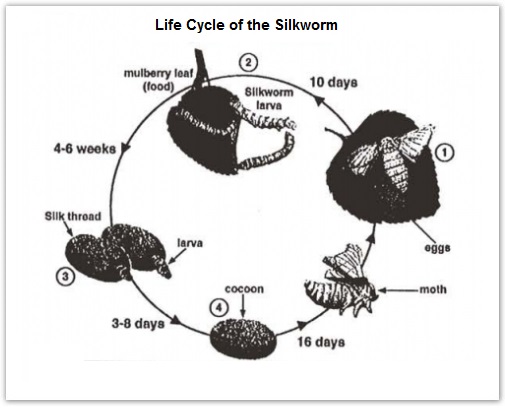 ---
General Writing Task 1
You recently ordered a small item online but when it arrived it was unusable. Write a letter to the company that sold you the item. In the letter:
Give details about the order you made
Explain what was wrong with the item
Tell the company what you want them to do about it
Write at least 150 words.
---
General / Academic Writing Task 2
Nowadays many people are following an unhealthy diet and no exercise. Why do you think is this happening? How can this situation be corrected?
---
ACADEMIC / GENERAL SPEAKING
Part 1 Photography
Do you like to take photographs? (Why?)
Do you prefer to take photos yourself or to have other people take photos? (Why?)
How (why) did you become interested in photography?
How long have you liked taking photographs?
In what situations do you take photographs?
Do you prefer to take pictures of people or of scenery?
Do you keep your photographs on your computer?
Are there any photos on the walls of your home?
Do you frame (or have you framed) any of your photos? (If yes, which? & why??
Do you prefer to send postcards to people or to send photos that you took yourself? (Why?)
Part 2 Cue Card
Describe an occasion when you were scared or Afraid; You should say:
When and where it happened
Who you were with
Why you were scared
How you felt about it
Part 3 Questions
Is it ok to frighten others?
How do people usually get frightened?
Do children like to scare others?
Why is it easy to scare some people?
What should people do when they feel scared?
IELTS Reading Test
Academic Module Samples Pdf and Answers
General Module Samples Pdf and Answers
IELTS Listening Test
Sample Papers with Pdf Audio Files and Answers