IELTSFever FREE Online Mock Test Day 169 Recent Exam Tests Must Read These Instructions before participating in Exam.
The answer to every question is mandatory; otherwise, we will not accept it. Send your answers to [email protected] with your name, city along with the question Test Number like IELTSFever FREE Online Mock Test Day 169 ( in the subject field of email), and you must send us the answer within 24 hours of the question.  We will not respond to late answers, and without a name, question no answer will be considered. For any help, you can contact us on the IELTSfever Instagram Page For IELTS Reading Tests and Listening Tests
IELTSFever FREE Online Mock Test Day 169
Academic Writing Task 1
The chart below shows the percentage of young people in higher education in four different countries in 2000, 2005 and 2010. summarise the information by selecting and reporting the main features and make comparisons where relevant.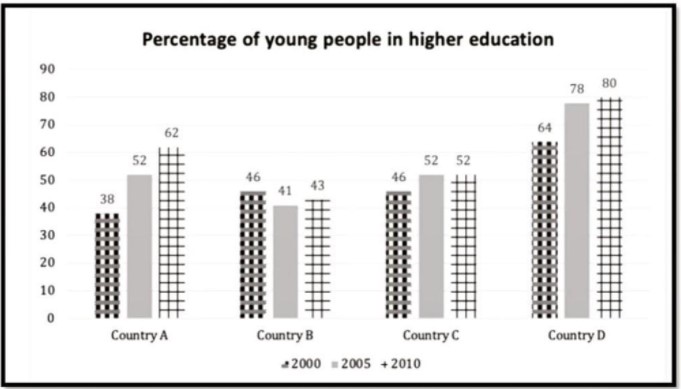 ---
General Writing Task 1
You would like to take a part-time course at the university, but don't have the money to do it. Write a letter to an organization that supports students financially and ask for help. In your letter
– Describe your qualification and degree.
– Provide some details of the course.
– Explain how this course will help you in the future.
---
General / Academic Writing Task 2
Nowadays many people have an unhealthy diet and do not exercise regularly. What are the reasons behind this trend? How can we encourage these people to live healthy lifestyles?
---
ACADEMIC / GENERAL SPEAKING
Part 1 Punctuality
Do you wear a watch?
In your country is it important to be on time (= be punctual)? (e.g., for meetings, work, classes)
Do you like to be on time?
How do you feel when others are late?
How do you remind yourself to be on time?
Why are some people always late?
Do you think it's important to be punctual?
What will you do if you are waiting for someone?
Do you think people these days are as punctual as they were in the past?
Part 2 Cue Card
Talk about a piece of equipment you use at home. Please say
– What is it?
– When and where did you buy it?
– How often do you or your family members use it?
– And explain why you think it is useful.
Part 3 Questions
What other useful equipment do you have and use at home?
Do you think the younger generation is more comfortable with modern equipment than older people? Why?
Nowadays many factories use automatic machines and equipment instead of manual labour.
Why do you think it is?
Do you believe that robots will replace people in the near future?
Where will people be replaced by robots completely, in your opinion?