IELTSFever FREE Online Mock Test Day 179 Recent Exam Tests Must Read These Instructions before participating in Exam.
The answer to every question is mandatory; otherwise, we will not accept it. Send your answers to [email protected] with your name, city along with the question Test Number like IELTSFever FREE Online Mock Test Day 179 ( in the subject field of email), and you must send us the answer within 24 hours of the question.  We will not respond to late answers, and without a name, question no answer will be considered. For any help, you can contact us on the IELTSfever Instagram Page For IELTS Reading Tests and Listening Tests
IELTSFever FREE Online Mock Test Day 179
Academic Writing Task 1
The diagram below shows the production of steam using a gas-cooled nuclear reactor. Summarise the information by selecting and reporting the main features, and make comparisons where relevant.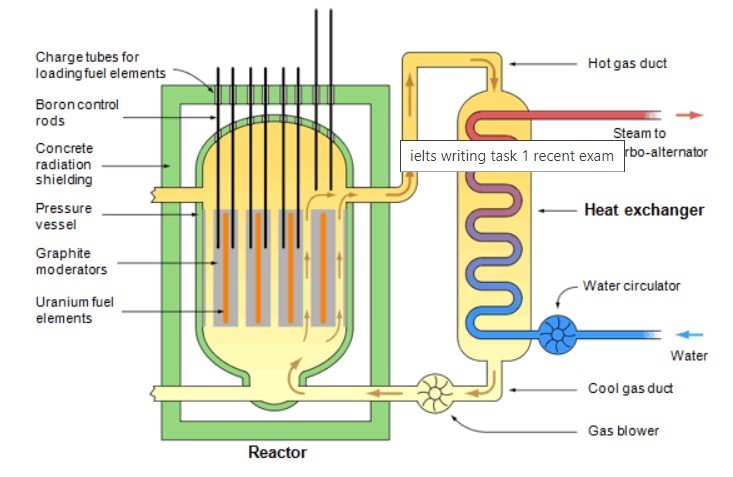 ---
General Writing Task 1
You have recently visited a building which is of historical importance and came to know that it's in bad condition. Write a letter to local newspaper office.
In the letter, you should tell:
– which building it is
– what are the problems
– what do you expect them to do
---
General / Academic Writing Task 2
Movies and computer games containing violence are popular. Some people say they have a negative effect on society and should be censored. Others say they are just harmless relaxation. Discuss both these views and give your own opinion.
---
ACADEMIC / GENERAL SPEAKING
Part 1 Films or Movies
Do you like to watch films?
Do you prefer foreign films or Indian films?
How often do you go to the cinema to watch a movie?
Do Indian people like to go to the cinema to watch a film?
What kinds of movies do you like the best?
What was the first film you watched?
Part 2 Cue Card
Talk about an old person you know and respect
Who he or she is,
How you know this person,
What he or she is like,
why you respect him or her
Part 3 Questions
What qualities does a person need to have to take care of old people?
Do you think old people should be taken care of at home?
How can people in the neighborhood help the elderly during an epidemic?
Do you see this kind of help occurring in your neighborhood?