IELTSFever FREE Online Mock Test Day 224 Recent Exam Tests Must Read These Instructions before participating in Exam.
The answer to every question is mandatory; otherwise, we will not accept it. Send your answers to [email protected] with your name, city along with the question Test Number like IELTSFever FREE Online Mock Test Day 224 ( in the subject field of email), and you must send us the answer within 24 hours of the question.  We will not respond to late answers, and without a name, question no answer will be considered. For any help, you can contact us on the IELTSfever Instagram Page For IELTS Reading Tests and Listening Tests
IELTSFever FREE Online Mock Test Day 224
Academic Writing Task 1
The graph shows the percentage of male and female academic staff members across the faculties of a major university in 2016.
Summarise the information by selecting and reporting the main feature, and make comparisons where relevant.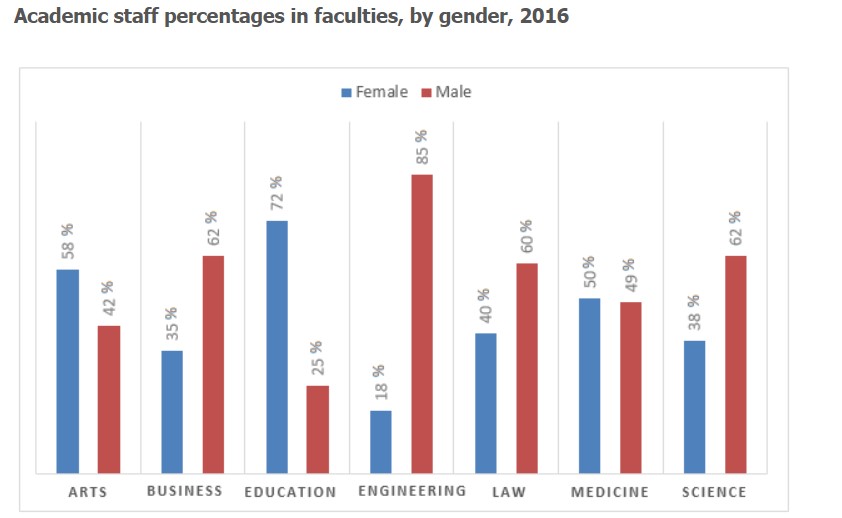 ---
General Writing Task 1
You have a friend who has always liked the car you currently drive. Now you have decided to sell the car. You think your friend might be interested in buying it. Write a letter to this friend. In your letter,
say why you want to sell your car
describe the condition of the car
invite the friend to come and see the car himself/herself someday
---
General / Academic Writing Task 2
Many people join distance-learning programmes (study material, post, TV, Internet) and study at home, but some people think that it cannot bring the same benefit as attending colleges or universities does.
---
ACADEMIC / GENERAL SPEAKING
Part 1 Happiness
Are you a happy person?
What usually makes you happy?
Does the weather ever affect how you feel?
What makes you feel unhappy?
Do you think people in your country are generally happy people?
Part 2 Cue Card
Talk about a time when you had to wait in a long line
when it was,
how long was the queue/line was,
what it was about,
how you felt about waiting in this long queue or line.
Part 3 Questions
What do people like to do while waiting in line?
Do Indian people often wait in the queue?
What do you think who jump the queue?
How can companies improve their customer service?
Do you think the development of technology has reduced the time people have to wait in queues?