IELTSFever FREE Online Mock Test Day 253 Recent Exam Tests Must Read These Instructions before participating in Exam.
The answer to every question is mandatory; otherwise, we will not accept it. Send your answers to [email protected] with your name, city along with the question Test Number like IELTSFever FREE Online Mock Test Day 253 ( in the subject field of email), and you must send us the answer within 24 hours of the question.  We will not respond to late answers, and without a name, question no answer will be considered. For any help, you can contact us on the IELTSfever Instagram Page For IELTS Reading Tests and Listening Tests
IELTSFever FREE Online Mock Test Day 253
Academic Writing Task 1
The chart below shows estimated world literacy rates by region and by gender for the year 2000. Write a report for a university lecturer describing the information below.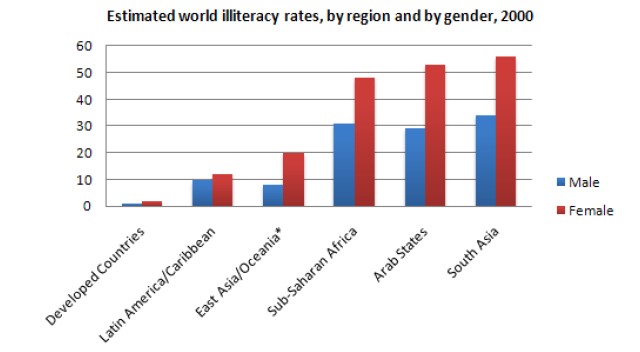 ---
General Writing Task 1
You attended a meeting last week, but you were not happy with the hotel which you stayed in. Write a letter to the organizer who booked the hotel for you. In your letter, you should tell:-
what the problems were?
what you didn't like about the hotel?
what do you want the organizer to do?
---
General / Academic Writing Task 2
Today family members eat fewer meals together. Why is this? Is this a positive or negative trend?
---
ACADEMIC / GENERAL SPEAKING
Part 1 Weather & Accommodation
Do you live in a house or a flat?
Is it a big place?
How long have you lived there?
What do you like about living there?
Is there a garden in the place you live in?
Do you prefer hot weather or cold?
Tell me about the weather in your country at different times of the year?
Which time of the year did you enjoy the most when you were a child?
Do you (usually) pay attention to the weather forecasts?
Has the weather changed much in your country in recent years?
Part 2 Cue Card
Describe a party you attended during new year days
whose party it was?
where the party was held and who went to it?
what do people do during the party?
Part 3 Questions
Do children like to party?
Do adults like to party?
Do you like loud music at parties?
What types of parties do people have?
Why are parties important?
Do you think parties will become more popular in the future?
Do people spend a lot of money on these parties in your country?
What are the main reasons why people organise family parties in your country?
Are there many differences between family parties and parties given by friends? Why do you think this is?
Who tends to enjoy national celebrations more: young people or old people? Why?