IELTSFever FREE Online Mock Test Day 463 Recent Exam Tests Must Read These Instructions before participating in Exam.
The answer to every question is mandatory; otherwise, we will not accept it. Send your answers to [email protected] with your name and city along with the question Test Number, like IELTSFever FREE Online Mock Test Day 463 ( in the subject field of email), and you must send us the answer within 24 hours of the question. We will not respond to late answers; no answer will be considered without a name or question number. For any help, you can contact us on the IELTSfever Instagram Page and Telegram channel. For IELTS Reading Tests and Listening Tests, click here
IELTSFever FREE Online Mock Test Day 463
Academic Writing Task 1
The chart below shows multi-year expenses (in $ million) in the same nation on five different items in 18 (in 2010 and 2014). Look at the data and try to select and announce where the important highlights are.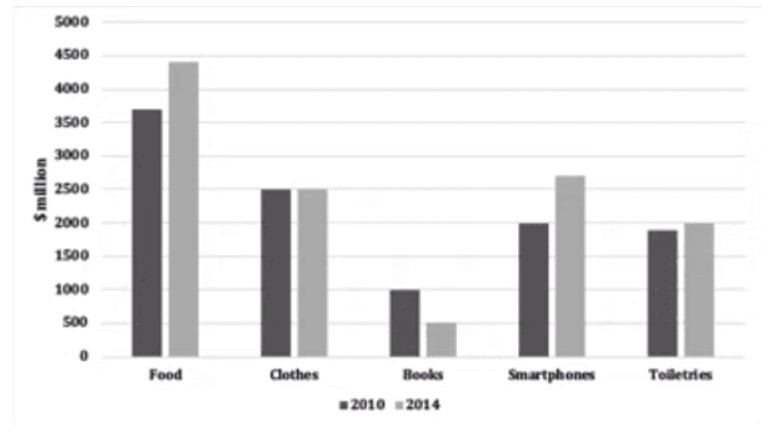 ---
General Writing Task 1
Write a letter to the television channel Manager about boring programs during the day time.
Tell him about the programs,
Tell him why you think it
and give suggestions.
---
General / Academic Writing Task 2
Some Companies Sponsor Sports And Sports Stars To Promote themselves Some Believe it is Good While others Believe it Has Disadvantages. Both Views And Opinions
---
ACADEMIC / GENERAL SPEAKING
Part 1 Area you Live
Where are you living now?
What do you like most about where you live?
What is the neighbourhood like where you live?
Do you have any friends there?
What can be improved in the area where you live?
Do you know any famous people in the area where you live?
Do you intend to stay in this area in the future?
Part 2 Cue Card
Describe a crowded place you've been to. You should say:
when you went there
where the place is (or, was)
who you went therewith
and explain how you felt about the place.
Part 3 Questions
Why do a lot of people enjoy going to crowded places?
Where (or what) would you say is the most crowded place in your city?
Would you say it's important for a city to have amusement (and/or recreational) facilities?
Why do you think people choose to live in big cities (despite certain problems)?
How do you think cities overseas are different from those in your country?
Would you say urban planning is important?