IELTSFever FREE Online Mock Test Day 505 Recent Exam Tests Must Read These Instructions before participating in Exam.
The answer to every question is mandatory; otherwise, we will not accept it. Send your answers to [email protected] with your name and city along with the question Test Number, like IELTSFever FREE Online Mock Test Day 505 ( in the subject field of email), and you must send us the answer within 24 hours of the question. We will not respond to late answers; no answer will be considered without a name or question number. For any help, you can contact us on the IELTSfever Instagram Page and Telegram channel. For IELTS Reading Tests and Listening Tests, click here.
IELTSFever FREE Online Mock Test Day 505
Academic Writing Task 1
The graph below shows fish consumption and different kinds of meat in a European country between 1979 and 2004. Summarise the information by selecting and reporting the main features, and make comparisons where relevant.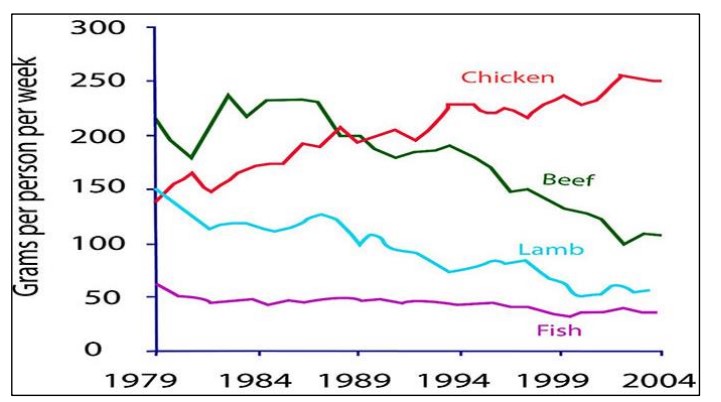 ---
General Writing Task 1
You recently discovered that there are plans to build a new airport in your area, and you are not happy with it. Write a letter to the local authority. In your letter,
Say how you found out about the plans.
Explain what problems your neighbourhood will face.
Suggest some possible solutions to those problems.
---
General / Academic Writing Task 2
Some countries have legal ages at which people can drink. Other countries believe not having strict laws is a better policy. Discuss both sides and give your own opinion.
---
ACADEMIC / GENERAL SPEAKING
Part 1 Technology
What technology do you often use, computers or cell phones?
What electronic devices have you bought lately?
Is there any technology you want to buy?
Is technology important in your life?
Is there any technology you don't like?
What do you think are the trends in technology today compared to when you were young?
Part 2 Cue Card
Describe a problem you had while shopping online or in a store: You should say:-
When did it happen?
What did you buy?
What problem you had?
And explain how you felt about the experience.
Part 3 Questions
What kind of customer service do you think is good?
What are the differences between shopping online and in-store?
What problems do customers often have while shopping?
What do you think customers should do when there are problems with products bought online?