IELTSFever FREE Online Mock Test Day 607 Recent Exam Tests Must Read These Instructions before participating in Exam.
The answer to every question is mandatory; otherwise, we will not accept it. Send your answers to [email protected] with your name and city along with the question Test Number, like IELTSFever FREE Online Mock Test Day 607 ( in the subject field of email), and you must send us the answer within 24 hours of the question. We will not respond to late answers; no answer will be considered without a name or question number. For any help, you can contact us on the IELTSfever Instagram Page and Telegram channel. For IELTS Reading Tests and Listening Tests, click here. 

IELTSFever FREE Online Mock Test Day 607
Academic Writing Task 1
The chart below shows the amount of leisure time enjoyed by men and women of different employment statuses. Write a report for a university lecturer describing the information below.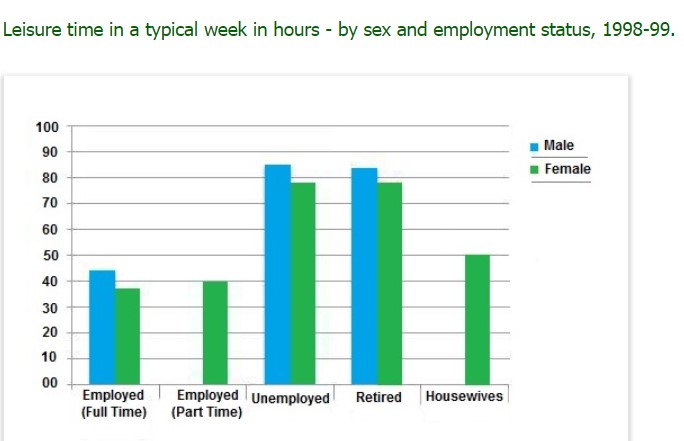 ---
General Writing Task 1
You eat in your college cafeteria everyday lunchtime. However, you think it needs some improvements. Write a letter to the college magazine. In your letter,
Explain what you like about the cafeteria.
Say what is wrong with it.
Suggest how it could be improved.
---
General / Academic Writing Task 2
Some people think that cities are the best places to live. Others prefer to live in a rural area. Compare the advantages and disadvantages of living in the city to living in the countryside. Give reasons for your answer and include any relevant examples from your experience.
---
ACADEMIC / GENERAL SPEAKING
Part 1 Happy Things
Is there anything that has made you feel happy lately?
What made you happy when you were little?
What do you think will make you feel happy in the future?
When do you feel happy at work?
Do you feel happy when buying new things?
Do you think people are happy when buying new ones?
Part 2 Cue Card
Describe an occasion when you lost something
What did you lose?
When and where you lost it?
What did you do to find it?
And explain how you felt about it.
Part 3 Questions
Why do a lot of people often throw things?
In general, what kinds of things do people most often lose?
What would you do if you found something that someone had lost?
How do people find what's missing?