IELTSFever FREE Online Mock Test Day 629 Recent Exam Tests Must Read These Instructions before participating in Exam.
The answer to every question is mandatory; otherwise, we will not accept it. Send your answers to [email protected] with your name and city along with the question Test Number, like IELTSFever FREE Online Mock Test Day 629 ( in the subject field of email), and you must send us the answer within 24 hours of the question. We will not respond to late answers; no answer will be considered without a name or question number. For any help, you can contact us on the IELTSfever Instagram Page and Telegram channel. For IELTS Reading Tests and Listening Tests, click here. 

IELTSFever FREE Online Mock Test Day 629
Academic Writing Task 1
Take a look at the graphs and complete the task below about computer ownership by educational level, 2002 and 2010. Summarise the information by selecting and reporting the main features and make comparisons where relevant.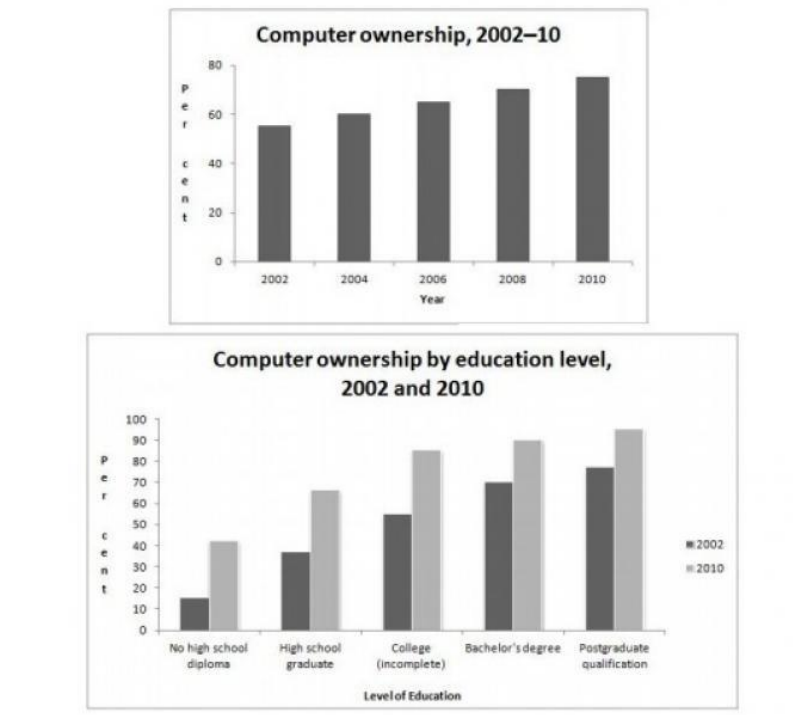 ---
General Writing Task 1
You are currently taking a course at a college, but you will need to have a week off during this course. Write a letter to the college Principal. In the letter:
Give details of your course.
Explain why you need a week off.
Say what you want the Principal to do.
---
General / Academic Writing Task 2
Some people say that the increasing business and cultural contact between countries is a positive development. While others think that many countries will lose their national identities as a result. Discuss both views and give your opinion.
---
ACADEMIC / GENERAL SPEAKING
Part 1  (Books & TV)
Do you like watching TV?
How often do you watch TV?
What kind of TV programs do you like to watch?
What are the most popular TV shows in your country?
Has the internet affected your viewing habits?
How often do you read?
Do you like reading books? Why?
Do you have many books at home?
Do you prefer to buy books or borrow them?
What are the benefits of reading?
Part 2 Cue Card
Describe a time when you had to lend something to a person you know.
What did you lend?
When did it happen?
Why did he/she ask to borrow the item?
Explain how you felt about this.
Would you let him borrow it again in the future?
Part 3 Questions
What do you think of people who are posting about their personal life on social media?
How do you feel about sharing research documents online?
Why aren't children willing to share their things, such as toys?
How can parents teach their children about sharing?