IELTSFever FREE Online Mock Test Day 650 Recent Exam Tests Must Read These Instructions before participating in Exam.
The answer to every question is mandatory; otherwise, we will not accept it. Send your answers to [email protected] with your name and city along with the question Test Number, like IELTSFever FREE Online Mock Test Day 650 ( in the subject field of email), and you must send us the answer within 24 hours of the question. We will not respond to late answers; no answer will be considered without a name or question number. For any help, you can contact us on the IELTSfever Instagram Page and Telegram channel. For IELTS Reading Tests and Listening Tests, click here. 

IELTSFever FREE Online Mock Test Day 650
Academic Writing Task 1
The pie charts below show the online shopping sales for retail sectors in Australia in 2010 and 2015. Summarise the information by selecting and reporting the main features and make comparisons where relevant.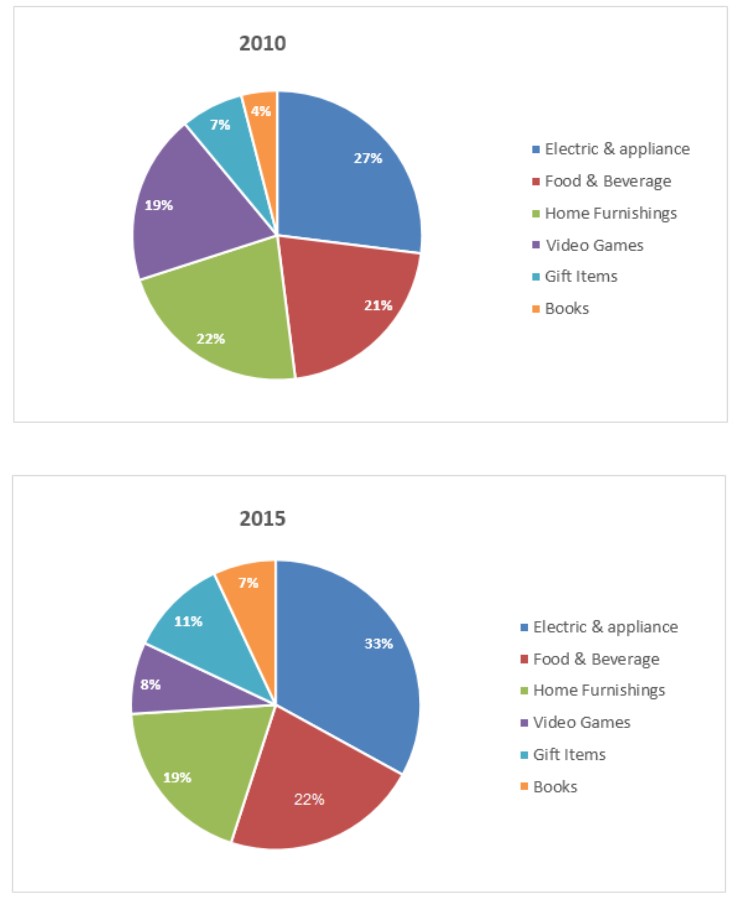 ---
General Writing Task 1
You recently ordered a small item online, but when it arrived, it was damaged. Write a letter to the company that sold you the item. In your letter:
Give details about the order you made.
Explain what was wrong with the item.
Tell the company what you want them to do about it.
---
General / Academic Writing Task 2
The international community must act immediately to ensure all nations reduce their consumption of fossil fuels. eg gas and oil. To what extent do you agree or disagree?
---
ACADEMIC / GENERAL SPEAKING
Part 1 Coffee or Tea
Are tea and coffee popular in your country?
Do people like tea or coffee nowadays?
Do you prefer to drink tea or coffee?
Do you like tea and coffee?
Do you often drink coffee and tea?
Part 2 Cue Card
Describe a Water Sport You Want to Try in The Future
Who he/she is?
What the new place is like?
Why did he/she move to a new place?
And explain whether his or her move has a positive impact on you.
Part 3 Questions
Why do young people move to their own accommodation?
Are there any other reasons besides that?