IELTSFever FREE Online Mock Test Day 660 Recent Exam Tests Must Read These Instructions Before Participating in Exam.
The answer to every question is mandatory; otherwise, we will not accept it. Send your answers to [email protected] with your name and city along with the question Test Number, like IELTSFever FREE Online Mock Test Day 660 ( in the subject field of email), and you must send us the answer within 24 hours of the question. We will not respond to late answers; no answer will be considered without a name or question number. For any help, you can contact us on the IELTSfever Instagram Page and Telegram channel. For IELTS Reading Tests and Listening Tests, click here. 

IELTSFever FREE Online Mock Test Day 660
Academic Writing Task 1
The Number of Foreign Tourists Visiting X Country in 2019 and 2020. Summarise the information by selecting and reporting the main features and make comparisons where relevant.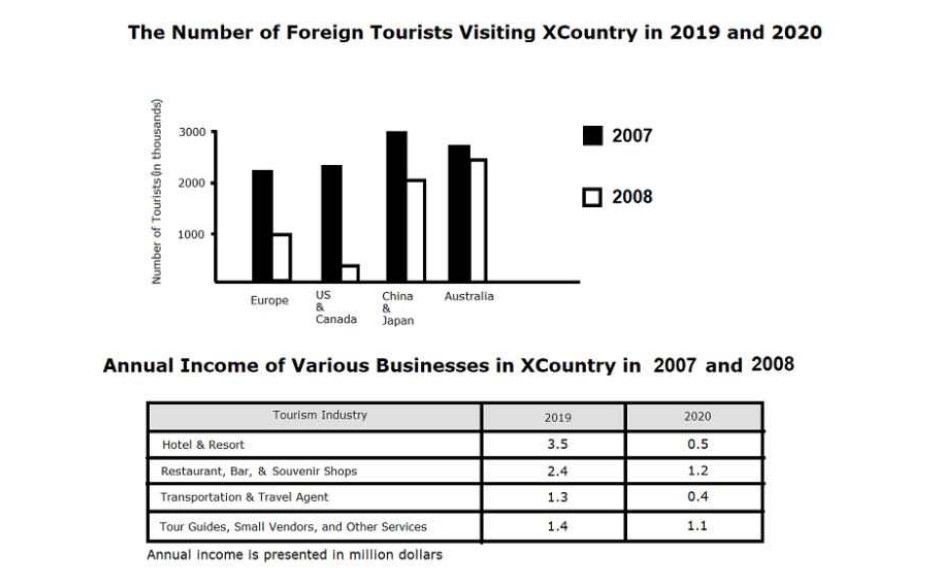 ---
General Writing Task 1
Last month, you travelled to another city. You told a friend who lives in the city that you would meet them, but you did not. Write a letter to this friend. In your letter
Apologise for not meeting him/her.
Explain why you did not contact him/her earlier.
Suggest a time and place to meet in the future.
---
General / Academic Writing Task 2
Schools should use films, computers and games instead of books. To what extent do you agree or disagree?
---
ACADEMIC / GENERAL SPEAKING
Part 1  Running
Do you like running?
Where do you go running?
How often do you run?
Do you go running a lot?
Do you think running is a good way to stay healthy?
Part 2 Cue Card
Describe a Car Journey You Had
Where did you go?
What did you do at that place?
Who did you go there with?
Explain why you went on that journey by car.
Part 3 Questions
What will cars be like in the future?
What are the differences between men's and women's preferences on cars?
What are the differences between bicycles and private cars?
Why do people like to have private cars?
Is it a good thing that everyone has his or her own car?
How do you buy private cars in India?
What benefits does public transport bring to the world?
Is it too late for people to get their driver's license at the age of 18?
What qualities does a driver need to have?
Do you think the government should make it a rule for people to use public transport?
Which jobs require people to be good at driving?
Do you see driverless cars as the future of cars?