IELTSFever FREE Online Test Day 96 Recent Exam Tests Must Read These Instructions before participating in Exam.
The answer to every question is mandatory; otherwise, we will not accept it. Send your answers to [email protected] with your name, city along with the question Test Number like IELTSFever FREE Online Test Day 96 ( in the subject field of email), and you must send us the answer within 24 hours of the question.  We will not respond to late answers, and without a name, question no answer will be considered. For any help, you can contact on IELTSfever Facebook Page regarding IELTSFever FREE Online Test Day 96 Recent Exam Tests.
Academic Writing Task 1
The graph below shows radio and television audiences throughout the day in 1992.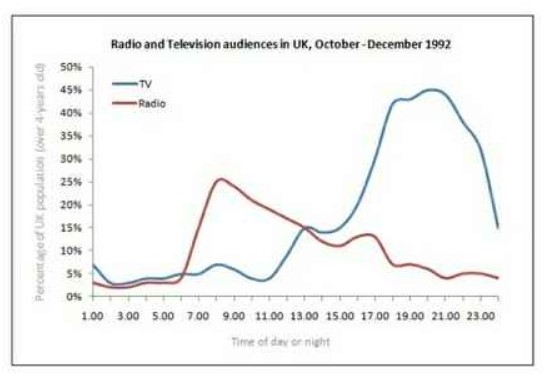 Summarise the information by selecting and reporting the main features and make comparisons where relevant.
General Writing Task 1
You are a professional and you are planning to work abroad. You have come across an employment agency on the internet that hires people from your country and sends them to other countries. Write a letter to the agency. In your letter:
Write reasons why you want to work abroad.
Describe what kind of company or organization you want to work with.
State your expectations from the job.
General / Academic Writing Task 2
The main purpose of public libraries is to provide books, and they should not waste their limited resources and space on providing expensive hi-tech media such as computer software, videos, and DVDs. To what extent do you agree or disagree with this statement?
Academic / General Speaking
Part 1
Do people in your country like barbecues

what kind of food do you like to eat at the barbecues
Part 2 Cue Card
Describe a plan (not related to work or study) you have for the future.
You should say:
what plan it is

what you would need to do to achieve it

how long you have had this plan

and explain how difficult it would be to fulfil it.
Part 3 Follow-Ups 
Do you think people need to have a day-to-day plan?

Do you think people can still do their tasks if they don't plan them?

Do you think planning is important or is it a waste of time?

What kinds of personal plans should people make for themselves?

For a person with children, what influence does this have on their personal plans for the future?

Do you think it is possible to learn how to manage your time?

Why do you think some people don't plan their day in advance?