Last week you had gone on a holiday with your family. unfortunately, you had lost your mobile there. as per the mobile company policy, you are entitled to claim for this loss.
write a letter to the managing director of the company to give to you for your lost mobile.
Ans:
Dear sir,
I am writing here is concerned with my lost mobile which I recently bought from your company. I want to talk about the insurance of my mobile which was lost when I had gone away on a holiday. it was a wonderful gift that was given by my grandfather on my birthday. it was very precious for me because I felt attached myself with my grandfather through this gadget.
Last week, on the holiday, I had enjoyed a lot the wonderful things there because the place I had visited was a hill station which presented a scenic beauty of nature. I had lost my mobile when I was busy capturing pictures of the hilly area and unconsciously I left it where I sat for a while.
As per the mobile company policy, I am entitled to claim for this loss. I humbly request you to please clear my insurance and transfer money to my account as soon as possible so that I could buy a new mobile because it is very difficult for me to keep in touch with my friends and relatives more without it.
I am looking forward to your response.
Yours faithfully,
Harry.
You have been using a local bus service about six months. the service seems to be getting worse and worse. write a letter of complaint to the bus company. in your letter: (1). tell them that the buses not running on time. (2). tell them about the level of cleanliness, and the attitude of drivers. (3). ask them to take some action into this matter.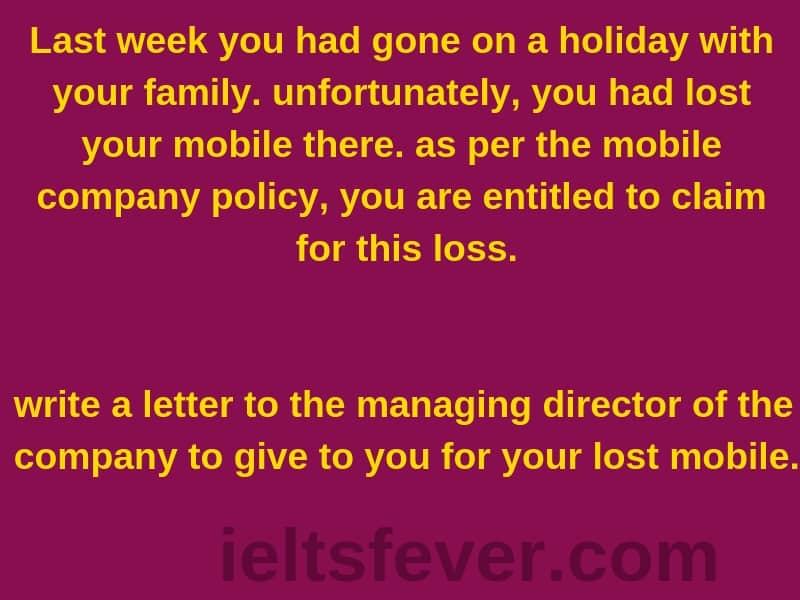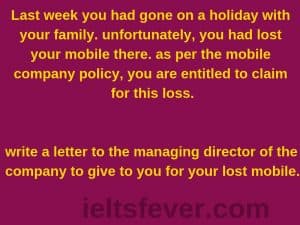 Photograph IELTS speaking part 2 cue card with answer IELTS EXAM
Last week you had gone on a holiday with your family. unfortunately Last week you had gone on a holiday with your family. unfortunately Last week you had gone on a holiday with your family. unfortunately