Most countries offer two education systems from which parents can select the form of schooling which most suits their child. Compare and contrast state-run and privately owned school in your own country or in a foreign country.
---
Education plays an important role in the overall growth of children. Future of everyone depends upon their qualification. So that's why the parent chooses best education system for their child. Nowadays, state-run and privately owned schools are running in the most of the countries and both have their own characteristics.
First of all, parents who select state-run schooling think that their schools provide extra facilities to their student such as scholarship, state level competition. For instance, in developed countries, the brilliant students get scholarship according to their performance which helps them in the future. On the other hand, private schools include other activities with academic education like art and craft classes musical education and so on. With the help of these activities help to make name and fame.
Moreover, government schools help poor students who belong to under the poverty line. All in all, it can be said that government schools provide cheaper education as compare to provide to school. Furthermore, the state-run school only select talented student which are already good in their study, however, private school accept those students also who are not got admission in government schools. For instance, In Canada, mostly private schools accept all level of children whether they are brilliant or arrange student.
To put in a nutshell, I pen down saying that both types of the education system have their own benefits. According to me, the state-run schools give more facilities to enhance the knowledge as well as less costly rather than private schools.
https://www.facebook.com/ieltsfever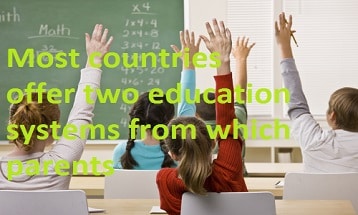 Most countries offer two education systems from which parents
Most countries offer two education systems from which parents
Most countries offer two education systems from which parents
Most countries offer two education systems from which parents