Some people think that teenagers should be required to do unpaid work in their free time to help the local community. They believe this would benefit both the teenagers and society as a whole.
Ans:
Youngsters are the building blocks of the nation and they play an important role in serving the society because at this age they are full of energy not only mentally but physically also. some people think that youth should do some voluntary work for the society in their free time and it would be beneficial for both of them. I agree with the statement. it has numerous benefits which will be discussed in the upcoming paragraphs.
To begin with, they could do a lot of activities and make their spare time fruitful. first of all, they can teach children living in slum areas because they are unable to afford education in schools or colleges. as a result, they will become civilized individuals and do not indulge in antisocial activities. by doing this they could gain a lot of experience and becomes responsible towards the society. it would be beneficial in their future perspective.
In addition to this, they learn a sense of cooperation and sharing with other persons of the society. for instance, they could grow plants and trees at public places and this would be helpful not only to make the surrounding clean and green but reduce the pollution also to great extent. moreover, they could arrange awareness programmes in society and set an example among the natives of the state. this will make the social bonding strong between the individuals and this will also enhance their social skills.
In conclusion, they can "kill two birds with one stone" because it has a great advantage both for the society and for the adolescents. both the parents, as well as teachers, should encourage the teens to take part in the activities of serving the community in their free time.
Some people say that friends are more important than family in today's world. others say a family is always more important. write in support of one of these views.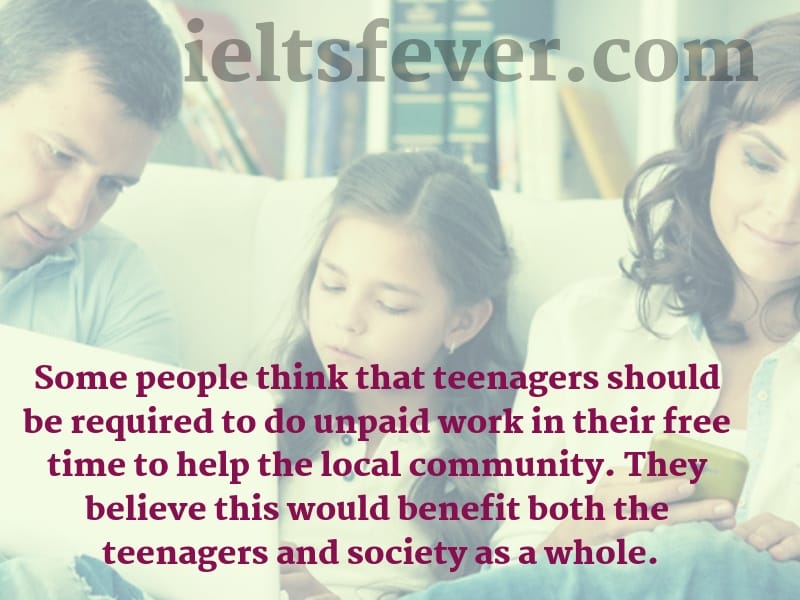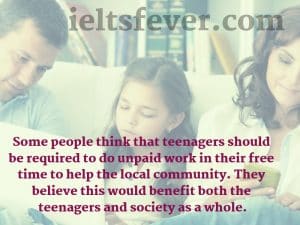 Some people think it would be a good idea for schools to teach every young person how to be a good parent. do you agree or disagree with this opinion? describe the skills a person needs to be a good parent.
Some people think that teenagers should be required to do unpaid work Some people think that teenagers should be required to do unpaid work Some people think that teenagers should be required to do unpaid work