STORY OF A FILM IELTS SPEAKING CUE CARD WITH ANSWER
---
Well, everyman like the movies/films.But I would like to talk about my favorite movie "Baghban".It is directed by Ravi Chopra.The lead roles are played by Amitabh Bachchan and Hema Malini.This movie shows the selfish nature of children towards to their parents.The main story of this movie is that Amitabh Bachan retires from his job and his four sons are very reluctant to look after them.Amitabh Bachan and Hema Malini supported by an adopted son who really loves and respects them.Fortunately, the Amitabh Bachchan becomes a rich man overnight by becoming the good book's writer.Then his children again swarm around him like bees around the honey.I like this movie because this gives us the message that parents always save money for future of their children.after seeing this movie, the respect grew in my heart for my loving parents.I learned many things from this movie.I really like this movie.
(Harpreet Kaur Malliana)
Also, Read
The government should control the amount of violence in films and on television in order to decrease the violent crimes in society. To what extent do you agree or disagree?
An American film actor once said, "Tomorrow is important and precious."Some people think individuals and society should pay more attention to the future than to the present. Do you agree or disagree?
Exposure to international media such as films, TV, and magazines has a significant impact on local cultures. What do you think has been the impact? Do you think its advantages outweigh the disadvantages?
Films can tell us a lot about the country where they were made. What have you learned about a country from watching its movies? Use specific examples and details to support your response.
speaking mock test favorite film or television programme
Academic reading practice test 56 SPACE TRAVEL AND HEALTH VANISHED DOGS – A LOVE STORY
Describe a time when you tried a new food for the first time IELTS exam
https://www.facebook.com/ieltsfever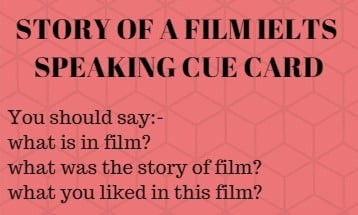 You are organizing a trip to the black mountains in west whales for a group of students Canterbury in Kent, UT. write to the manager of student hostel services and:
STORY OF A FILM IELTS SPEAKING CUE CARD WITH ANSWER
STORY OF A FILM IELTS SPEAKING CUE CARD WITH ANSWER
STORY OF A FILM IELTS SPEAKING CUE CARD WITH ANSWER
STORY OF A FILM IELTS SPEAKING CUE CARD WITH ANSWER
STORY OF A FILM IELTS SPEAKING CUE CARD WITH ANSWER
https://ieltsfever.org/describe-a-development-in-your-country-like-shopping-center/