Talk about a time when you helped someone
You should say:
Who was he?
How did you know him?
How did you help?
Talk about a time when you helped someone
Sample 1:-
Well, it is a moral value to help someone in any difficult situation. And here I would like to talk about a time when I helped an unknown person. I describe it briefly.
About a couple of months ago, I was going to college. Actually, my college is located at some distance from my hometown. I go there via bus. Once a day, I took a bus at about 9:30 am to reach my destination. In this bus, I sit down on a seat and felt some relaxation.
-----------------------------*SPONSERS* -----------------------------
But suddenly, I felt something in my feet. I thought it is a paper or a small notebook of someone other. But when I stooped down to take it, I saw that it was a passport. I checked it and asked about it to all the people who were available on that bus. But everyone said no for this passport. that passport was of someone other.
I read the address on it and that address was of a village named "Malliana" which is nearby my hometown. I took it with me. Then, on the next day, I went to "Malliana" village and asked from a villager about a home address which was available on that passport.
I easily found that home address. I went there and knocked on the door. A lady opened the door. I told her about the lost passport.
-----------------------------ADVERTISEMENT-----------------------------
She felt immensely glad after listen to it from me. Because of that passport of her son. She gave respect to me and thanked me. I also felt highly elated by helping a human being.
All in all, that was the time when I helped an unknown person.
Sample 2:-
Although, I belong to an educated family consists of 5 members, my father. my mother, my two siblings and myself, We are all spending our lines great enthusiasm.
Even though, I have remembered all the moral values given by my parents to me such as help others, respect to elders, love with the country and so on.
Generally about two months ago, I had helped an old and feeble person. On one Sunday, I was sitting on my home's roof in the evening. Then, I saw that an old person was wondering in my locality here and there.
Unfortunately, he was not looking well. It seemed that he was asking about an address or location.
Hence, I went outside and asked that person about the matter. He told me that he is looking for an address. On the same time, the weather was too hot because this happened during the summer season.
So, I look that old person to my house and gave water to him for drinking. He felt relax and cool. Then, I asked him about the address for which he was wandering. He told me everything.
Initially, after it, I went with him on my motorbike and dropped him on the same address which was that old person searching.
Eventually, I had helped him by dropping him to his destination. He blessed me a lot. I felt very much glad after seeing a smile on his face. I felt myself on the ninth cloud by happiness.
Sample  3:-
Well, We all need help at some point in time in our lives. I also received help much time and help others too. When we help others, It makes us happy and polite, also shows our behavior towards others. Today, I have asked to talk about a time when I helped someone else. I remember an incident when I was in 10th standard. I helped my needy friend who was my class-fellow.
His name was Avneet Singh and belong to a poor family. He didn't have enough money to buy books. And I used to receive a hundred rupees per month pocket money in those days. Usually, I spent that money on chocolates and  I love chocolates.
I decided to help him by giving all my pocket money to him. So, he could be able to buy books. I remember his face that how he became happy. Then, he bought books. Since then, we have been best friends. To be honest, I felt happy at that moment that feeling was extremely different which I never felt before.
I realized that somethings can give more happiness than eating chocolates.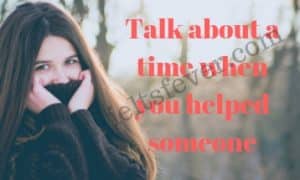 Describe a famous library in your country Ielts cue cards
People attend college or university for many different reasons (for example, new experiences, career preparation, increased knowledge) . Why do you think people attend college or university? Use specific reasons and examples to support your answer.
Describe image Speaking PTE practice Answers exercise
A website which helped you to do something ielts exam
Describe a young child you met cue card for IELTS speaking.
Also, like our Facebook page IELTSFEVER
-----------------------------SPONSERS-----------------------------