general reading practice test 2 ,THE HARBOUR VIEW HOTEL ,WHAT TO DO IN WESTLEY ,WESTLEY GENERAL HOSPITAL ,University of Westley ,SOME SNAKES OF AUSTRALIA
ieltsfever-general-reading-practice-test-2-pdf
ANSWERS ieltsfever-general-reading-practice-test-2-pdf
you can also download in zip file password= "ieltsfever.com"
ieltsfever-general-reading-practice-test-2-zip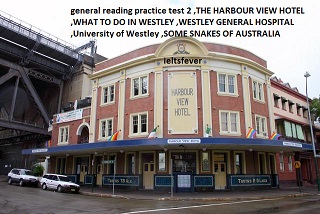 THE HARBOUR VIEW
HOTEL
Tourist Board ***
$100 PER PERSON PER NIGHT
• Tours arranged
• Private car park
• Restaurant
• All bedrooms en suite
• Short bus ride from Sydney City
Centre
• Parties catered for
For reservations call:
Tel 02 6412 5883
Fax 02 4185 6622
JULY ISSUE
WHAT TO DO IN WESTLEY
Features
Cover Story Cup Fever 20
The town is buzzing with our local
football team's advances in the county
cup. We bring you interviews with the
players and a preview of Westley FC's
next game, a local derby against Eastley.
Eating Out – Pub Grub 39
If you're feeling too lazy to cook but
don't want to dig too deep into your
pockets, we'll tell you some of the
best places in town for good, pub food.
WESTLEY GENERAL HOSPITAL
GUIDE FOR PATIENTS
When you come to hospital for a planned stay, please remember that space is limited. We also advise you to bring an overnight
bag even if you are only expecting to spend a day in hospital.
A Clothing
Please bring a selection of light clothing and personal belongings that may include: night clothes, a track suit, a sweater
or fleece, a bathrobe, slippers or socks, glasses, contact lenses, dentures, a hearing aid, bottled drinks (plastic only), tissues,
books and magazines, contact details of friends, cash to purchase items during your stay.
University of Westley
Computing Services Training
Traditional Instructor–Led Courses
We run courses on software and techniques for which we see a significant need within the
University amongst staff and research students. To see details of these courses, and the
current schedule, please enquire at the computing centre.
SOME SNAKES OF AUSTRALIA
The most deadly Australian snake is undoubtedly the taipan (oxyuranus scutellatus). There
are two types of taipan found in Australia, the coastal taipan and the inland or western taipan, the
latter being the most venomous land snake found on earth.
Growing to a possible length of 2.9 metres, the taipan has a light olive to dark brown back
with a lighter coloured head. The underbelly is cream in colour. The taipan can be found in open
forests, coastal heaths, grassy beach dunes and cultivated areas such as cane fields. It lives in
the far north of Australia and down the Queensland coast, but has been found as far north as the
Murray river in western New South Wales.
general reading practice test 2 ,THE HARBOUR VIEW HOTEL ,WHAT TO DO IN WESTLEY ,WESTLEY GENERAL HOSPITAL ,University of Westley ,SOME SNAKES OF AUSTRALIA general reading practice test 2 ,THE HARBOUR VIEW HOTEL ,WHAT TO DO IN WESTLEY ,WESTLEY GENERAL HOSPITAL ,University of Westley ,SOME SNAKES OF AUSTRALIA general reading practice test 2 ,THE HARBOUR VIEW HOTEL ,WHAT TO DO IN WESTLEY ,WESTLEY GENERAL HOSPITAL ,University of Westley ,SOME SNAKES OF AUSTRALIA general reading practice test 2 ,THE HARBOUR VIEW HOTEL ,WHAT TO DO IN WESTLEY ,WESTLEY GENERAL HOSPITAL ,University of Westley ,SOME SNAKES OF AUSTRALIA
Academic reading practice test 5 Wildfires are usually the product