Academic Writting practice test 4 Marriages and divorces
Marriages and divorces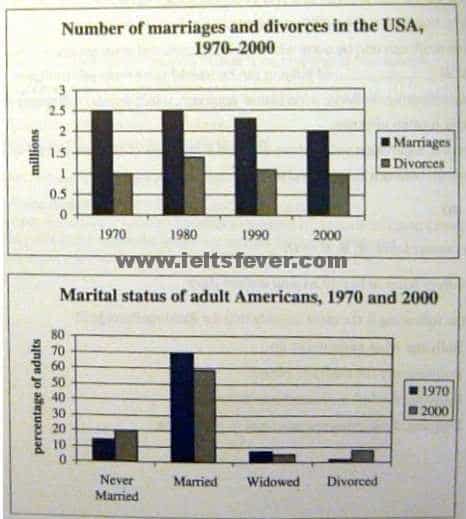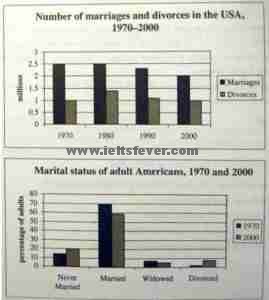 .ANSWER
The first bar chart shows changes in the number of marriages and divorces in the USA, and the second chart shows figures for the marital status of American adults in 1970 and 2000.
It is clear that there was a fall in the number of marriages in the USA between 1970 and 2000. The majority of adult Americans were married in both years, but the proportion of single adults was higher in 2000.
In 1970, there were 2.5 million marriages in the USA and 1 million divorces. The marriage rate remained stable in 1980, but fell to 2 million by the year 2000. In contrast, the divorce rate peaked in 1980, at nearly 1.5 million divorces, before falling back to 1 million at the end of the period.
Around 70% of American adults were married in 1970, but this Figure dropped to just under 60% by 2000. At the same time, the proportion of unmarried people and divorcees rose by about 10% in total. The proportion of widowed Americans was slightly lower in 2000.
(174)
Academic Writting practice test 4 Marriages and divorces
Academic Writting practice test 4 Marriages and divorces
Academic Writting practice test 4 Marriages and divorces