DESCRIBE AN INTERESTING PLACE THAT FEW PEOPLE KNOW
where is it?
When you go there?
What can you do there?
why few people go there? 
---
There is a number of interesting places in my hometown which are worth seeing like parks, museum, shopping malls, nature parks, Nehru Park. today I would like to talk about a place which is not so popular but it is still very interesting. It is the Verka park situated on the Moga to Kotakpura Bypass. Few people know about it because it is a little bit on the outskirts of the town. Me too was not known about it. But I heard about it from my friend. It is far from the madding crowd of the city and its beautiful garden with green grass and colorful flowers attached me with nature. It is maintaining the famous milk products of Verka company. It is interesting because there are all facilities available there for people. One can enjoy the delicious milk products of Verka and kids can enjoy the rides there. There is no fee for it. proper sitting arrangements are there for the elder people for sit. I often visit there with my family to spend my leisure time. There is not too much rush in the park and one can enjoy the entertainment and fun there. Sometimes Verka canteen there gives a discount on various milk products. I particularly like sweet Lassi there which is very sweet, tasty and delicious
Follow Ups
What are the disadvantages when there are too many tourists in one site?
Who did you go there with? 
What are the advantages of visiting less known places?
What can governments do to prevent pollution in tourist sites?
What kinds of tourist sites are popular in your country?
Have you been to that place?
Why did you go there? 
What is so special about this place?
Also, Read
Some people prefer to live in the same place most of their life, but others like to live in different places
Nowadays Young people know less about tradition and culture than in past
Describe some local news that people in your locality are interested in IELTS exam
More and more people are using computers and other electronic devices to access information
https://www.facebook.com/ieltsfever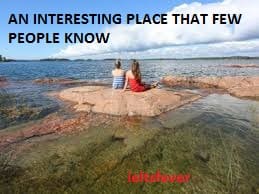 AN INTERESTING PLACE THAT FEW PEOPLE KNOW
AN INTERESTING PLACE THAT FEW PEOPLE KNOW AN INTERESTING PLACE THAT FEW PEOPLE KNOW AN INTERESTING PLACE THAT FEW PEOPLE KNOW AN INTERESTING PLACE THAT FEW PEOPLE KNOW AN INTERESTING PLACE THAT FEW PEOPLE KNOW AN INTERESTING PLACE THAT FEW PEOPLE KNOW AN INTERESTING PLACE THAT FEW PEOPLE KNOW AN INTERESTING PLACE THAT FEW PEOPLE KNOW
Sample 2
I stay in the big apple with my dad and mom. There are a good variety of interesting locations to peer and visit right here. but the big apple Public Library is greater exciting to me than any other locations.
I'm a citizen of the USA by way of delivery however my dad and mom aren't. They got here right here looking for residing from Larissa in Greece in the course of the Nineteen Eighties. They were residing for around 36 years in this town. After my start and that I got matured sufficient, they took me to unique interesting locations to visit within the NY metropolis, and these places are without a doubt thrilling. however being an introvert, I disliked the crowds and the public library seemed to be more interesting to me than different locations. The area is filled with books on several problems, magazines, files and plenty of different matters. The classics available in the library had been my favorite.
Going to the library is easier for me. In reality, this isn't always far away from my residence. The the big apple Public Library is handiest a 10-minute walk from my home. It stays open from 10 is to 8 pm, besides the weekends. generally, I go there inside the night and study books or novels till the library is closed. except, the library is out there from the other parts of the city. The people who need to visit the library can attain right here the usage of several transportation modes. they are able to attain the library by using taxi, metro or by means of their personal vehicles. but the people who stay nearby, like me, come here in the main walking.
The big apple Public Library is an incredible vicinity to read. however, the individuals who come right here aren't readers continually. some of them are researchers, while a few others can be historians or musicians. sincerely, the library is visited with the aid of a wide range of people. essentially, the library comes with the reading facilities. but there may be also the scope to test the reference books, peep on the song listing or crosscheck any history. besides, the analyzing rooms are well expanded and the readers have adequate opportunities to apply the books and references after their wishes. however, they have to be careful with the books. Silence some of the readers at the same time as studying books is predicted there.
analyzing books can also appear uninteresting to many however it's far very interesting to me. I really like reading books. The books assist us to recognize the unknown and unseen. The studies of past thousand years have been preserved in books in phrases. So, after I examine them, it seems that I am journeying thru time! however everyplace isn't always appropriate for studying and it calls for a very special surrounding. therefore, I assume a library is a pleasant location to examine. at the same time, it is an interesting place as an enriched series of books are to be had together. In reality, it's far not possible for an individual to gather a part of the books of this library in his whole life. So, I discover more hobby in studying books in a peaceful vicinity and the New York Public Library is an area I might advise to a traveler.