As part of a student social survey project, you are organizing a group to visit a historical exhibition in a small town.
Write a letter asking for information regarding such things as the contents of the exhibition, and the dates of its opening and closing, and if there are any discounts available.
---
Dear Sir,
I am organizing a group of students to pay a visit to the historical exhibition in your town. This visit will be part of our school's activities to encourage the students to take part in social surveys. Therefore, I would be grateful if you could supply me with the following information.
First of all, what are the dates between which the exhibition will be held, and what the daily opening hours? Secondly, what is the size of the exhibition, what is its theme and what objects are on display? Thirdly, are there any other activities being held in connection with the exhibition?
-----------------------------ADVERTISEMENT-----------------------------
I must point out that I hope to bring over students to the exhibition. So I would like to inquire if there is any discount available on entrance tickets for students. If so, how much is the discount and what is the minimum number of students necessary to qualify for it?
I look forward to your reply.
Yours sincerely,
George Munde
This is the letter example of As part of a student social survey project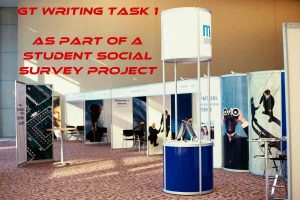 Also, Check More Writing Tasks
With the increase in the use of mobile phones and computers, fewer people are writing letters. Some people think that the traditional skill of writing letters will disappear completely. To what extent do you agree or disagree? How important do you think is letter-writing?
Some people say that subjects like arts, music, drama and creative writing are more beneficial to children and therefore they need more of these subjects to be included in the timetable. Do you agree or disagree?