Describe a film or TV show that made you laugh.
You should say:
what program it is
how often you watch it
what it is about and explain why you laugh at this program (explain what is funny in this program).
Sample 1:-
Well, there are a variety of movies and TV shows that are broadcasting on Television through many channels. Some shows or films are funny which make you laugh but some are another type of shows or movies such as motivational and educational. But here I would like to talk about a film named "Bhagam Bhag" which made me laugh. I describe it briefly.
This movie Bhagam Bhag is a Bollywood Movie which was directed by a popular director named "Priyadarshan". Its producers were Sunil Shetty and Dhilin Mehta. The whole story of Bhagam Bhag had written by Neeraj Vora and Priyadarshan. In this movie, Bollywood stars Akshay Kumar, Govinda, and Paresh Rawal were in the lead role.
But other Bollywood actors and actresses played roles in this film such as Lara Dutta, Tanushree Dutta, Jackie Shroff, Arbaaz Khan, Manoj Joshi, Rajpal Yadav, Gurleen Chopra, and Shakti Kapoor. I had watched it on television.
According to the story of this film, Paresh Rawal as Champak Chaturvedi is the director of a theatre group who offered a chance to go to London for a performance there. Govinda as Babla and Akshay Kumar as Bunty are two derps in this group. They always fighting with each other to get the role of the hero. This thing became cause the actress to run away.
Then, Champak said to both Babla and Bunty to find a new actress and he said to them that who finds the heroin for the show, he will make him a hero. After it, Babla and Bunty try to find a stunning actress for the show. They do many activities to do and produce fun in the film. Further, in the misunderstanding, they meet with two men from the underworld and exchange their goods, only to find that men have sold drugs to them since the underworld misinterpreted their need for heroine as "heroin( a drug)".
Bunty convinced to Babla to tell the whole story to the police but unfortunately, the police get the wrong impression. The police Officers think that Bunty and Babla are both criminals and drug dealers. So, Bunty and Babla run away from there but the police start sreaching them. they are both escaping themselves from police.
In the end of this movie Bhagam Bhag , They proves to the police that they are innocent. To add to it, they become able to find an actress for their show in London.
All in all, this movie made me laugh. When I was watching this movie, my stomach was paining with the laugh. I have remebered its each and every scene. It is a comedy movie and I think, everyone should watch it once.
Sample 2:-
Well, there are a number of movies and TV shows available in the market which content is totally based on humor. But I like the TV show laughter the master the most. I would like to describe it briefly. Describe a film or TV show that made you laugh.
It is a TV show in which plenty of comedians come and perform their best to laugh at the audience. It comes in the colors of TV every Saturday. It is the most popular TV show in India. At the previous Saturday, the most popular Indian comedian Johny lever came to this show as a guest. He performed some funny jokes which created a total humor environment and people got tears with a laugh. Describe a film or TV show that made you laugh.
It was such an awesome show. I watched its repeated serials too but I never get bored to watch it again and again. Its TRP is going up and up and in just a few days, it has become the most popular show than any other TV show. The Indian politician Navjot Singh Sidhu and some famous singers are the judges of this show. Describe a film or TV show that made you laugh.
It gives an opportunity to various people who have the talent to make people laugh with their funny things. So, a number of contestants take part in this show to perform. It is my favorite TV show as it is the only that makes me much happier even if I am in the situation of burden or any kind of tension.
A Radio or TV programme you like to talk to others with speaking part 2 cue card topic with sample answer IELTS EXAM
also, like our facebook page IELTSFEVER
-----------------------------SPONSERSs-----------------------------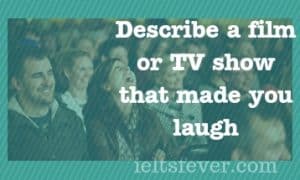 -----------------------------SPONSERSs-----------------------------