Describe a gift you gave someone
A gift you gave
What was the gift?
Who you gave it to?
Why you gave it?
---
Well, everyone loves to receive the gifts or presents.It is an act of happiness. But I would like to talk about the gift or present that I recently gave to my sister.It is a beutiful gift as well as used to her.It is a beautiful wrist watch.My sister can use it in her exams.I gave it to my sister.Because her final
exams of 10th class are near to appeared and there are no other accessory is allowed rather than awrist watch.On her last birthday we arrangeda party and invite all her friends.All people fully enjoyed in this party.His friends gave her some presents as well as our family.After the birthday party, She opened all her presents one by one.But when she saw my given present, she felt very happy.Because she has really need it.Before this, I thought about to give it directly but thenI had decided to give it on her birthday.So this is very suitable as well as appeared best for my sister.I felt very emotional when I saw happiness of my loving sister.
( Harpreet kaur Malliana )
Also, Read
A gift you have given cue card with answer IELTS EXAM
Describe the best present/gift you have received
Describe the best present/gift you have received
A gift (such as a camera, a soccer ball, or an animal) can contribute to a child's development. What gift would you give to help a child develop? Why? Use reasons and specific examples to support your choice.
What would be your perfect holiday or vacation look like? ielts exam
Talk about a special day which was not that expensive or on which you didn't have to spend a lot of money
https://www.facebook.com/ieltsfever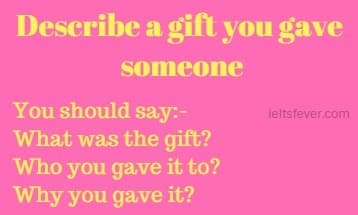 Describe a gift you gave someone
Describe a gift you gave someone
Describe a gift you gave someone
Describe a gift you gave someone