Describe a national festival in your city.
-When it takes place?
-Why it takes place?
-What do people do at this festival?
Well, I live in India. India is a diverse country where people related to different casts, creeds, and religions are living together. They celebrate a plethora of festivals according to their religion such as Holi, New Year Day, Krishan Janmashtami, and so on. But here I would like to talk about a national festival named "Diwali" which is also my favorite festival. I describe it briefly.
Diwali is a Hindu and Sikh festival of lights. This is celebrated by people every autumn. Diwali symbolizes as the spiritual victory of light over the darkness, good over the evil and knowledge over illiteracy. It was believed that light is the metaphor for information and concentration. During this festival, homes, shops, temples, and offices are brightly illuminated. It spreads light everywhere.
A few days before this festival, people clean, renovate and decorate their homes. At the day of Diwali, humans get up early in the morning. They wear new clothes and go to the market for shopping. There, they purchase sweets, gifts, fireworks, and so on. After it, they distribute presents and sweets in their near and dear ones.
In the evening of Diwali, Human beings celebrate this festival with great enthusiasm. They worship their goddess "Lakshmi". After this worship, they open the doors as well as windows. They believe that Lakshmi is the goddess of money and Lakshmi will come to their homes.
Eventually, I celebrate Diwali with my family as same as others celebrate it. I give sweets and new clothes in poverty-stricken people. I do not like to break the fireworks. Because it becomes a cause of degradation in the environment. I grow some plants on the occasion of Diwali. So, I like to celebrate clean and green Diwali.
Follow-up question:-
Question:- What are some important festival in your country?
Answer:- India is a diverse country and, there are a number of people who come from other nation with it, all folks celebrate different sorts of the festival such as Makar Sankranti, Holi, Eid, Raksha Bandhan and so on. Moreover, all citizen of my nation celebrate these festivals with family and friends as well as, they celebrate together and share their happiness, gifts, blessings with each other.
Question:-What special foods and activities are connected with the festival?
Answer:- Well, Diwali is the most famous festival in India and, all people celebrate it at home. Interestingly, it is a lighting festival and. during the diwali, folks cook different sorts of special sweets like Barfi, Kaju katli, Soan papdi, Gulab jamun as well as, people prepare Somosa, Allo Tikki because these are traditional snacks as well, common around the region. With it, all family members and relatives go to the temple and, decorate the home as well shops also with " Rangoli". They enjoy the crackers and, celebrate with everyone.
Question:- What do you most enjoy about it?
Answer:- This is an interesting question, I like and enjoy everything about Diwali as well as, school, college and office are also close in this day. they come back this day at home who do work outside the city and country and, celebrate with family and friends. After it, when I see the children smile then, I become happier. I also love to wear new hand made traditional dresses. At last, I always prefer to bursting crackers with my dear once.
Question:- Do you think festivals are important for a country? why?
Answer:- according to me, festivals are most important for all nation with it, people of other countries easily know about the rituals and traditions. They could represent the identity of a nation. Moreover, festivals are a good way to refresh their life as well, people spend more time with family and friends. Most interesting, all folks decorate the society with the light and, organized the function for society members with it, they easily know about their neighbors and, forget all types of matters and complaints.
You are organizing a trip to the black mountains in west whales for a group of students Canterbury in Kent, UT. write to the manager of student hostel services and: (1). explain when you want to visit the black mountains? (2). how long will you stay there? (3). how many students in your party and what accommodation you will require?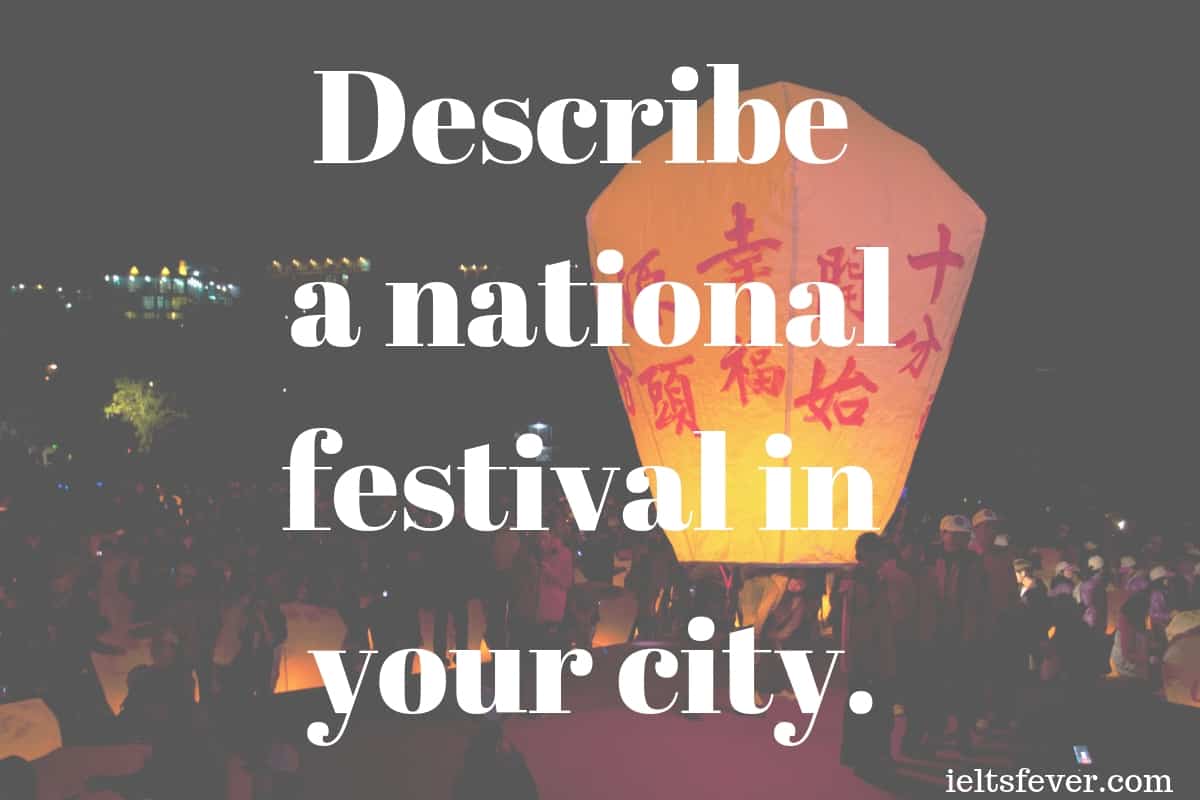 Describe a national festival in your city