Describe a situation where you helped an old person IELTS exam
When did you help?
Where did you help?
How did you help?
How did you feel about it?   
---
A number of occasions come in our life when we get an opportunity to meet the strangers. and gives us chance to help someone who really needs it. I have helped many persons at different times and in different situations, but today I would like to talk about a situation when I was traveling from Manila to India via Hongkong by broadening the air flight of jet airways. I was coming back from Manila to India after spending two months with my brother who is residing there. By chance, the seat next to me occupied by an old person who was also coming from mainly. because he also belongs to Punjab, so I started the conversation with him, he told me about the purpose of his visit we talked for long hours and when he told me that he belonged to the district Ludhiana like me. so, I feel affection towards him, he has a problem to converse with the air hostess when the cabin crew staff was serving the eatables because he did not speak well in English so, I helped him as a translator between him and staff. it makes ease for him. After a long journey, the flight landed at the IGI airport Delhi India. furthermore, I also helped him at the immigration counter and at the baggage claim counter. he was near about 65 years old and was unable to carry his luggage so, I arranged a trolly for him. I helped him to fill the custom and immigration forms. when we came out of the airport his family comes to receive him . he introduced me to them and all thanked me . we also exchange our phone numbers I felt very calm and satisfied after helping an old neddy person
( GaganDeep Singh)
 Follow Ups
How did you feel about it later?
Should younger generation be more helpful?
 In general, why do people help others?
Do you think it's important to help people who need help?
How can the older generation be helped?
Do you support volunteering?
What are the benefits of helping older people?
What is the current situation of families? Do they help each other?
What do you think about unpaid jobs?
Is childcare important? Who does it?
How do parents manage work-life balance and raise children?
Do you think that countries should help other countries in need?
 Many people only look out for themselves and never think about helping others. What do you think of this attitude?
Also, read
An activity you like doing with an old person IELTS exam
Describe a sportsperson that you admire IELTS exam
Describe a character or personality of yours IELTS exam
DESCRIBE AN INTERESTING PERSON FROM ANOTHER COUNTRY IELTS EXAM
Describe A time when you teamed up with old person to teach something to a friend IELTS exam
Talk about a person who speaks a different language to yours whom you have met.Please say IELTS exam
Also, like our Facebook page https://www.facebook.com/ieltsfever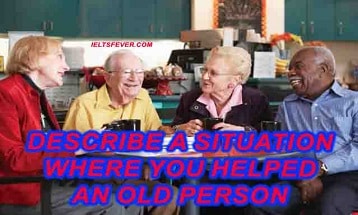 Describe a situation where you helped an old person IELTS exam Describe a situation where you helped an old person IELTS exam Describe a situation where you helped an old person IELTS exam Describe a situation where you helped an old person IELTS exam