Describe a time when you were cheated
You should say:
what was the occasion?

who was the person?

What did he or she do?
Sample 1:-
Well, I have experience in various situations such as adventures, deceives and good situations. And here I would like to talk about a time when I was ordered a book from a shopping website but I was cheated by this website because that book was in bad condition. I explain it briefly.
Once, I went to my friend Saba's home because she was my classmate and I had gone to her house to complete my project. I saw over there that she was purchasing things online from a shopping website. She bought some items such as books, clothes, paintings and so on at reasonable prices. She told me that she always purchase commodities online. I requested her to tell me properly. Then, she explained to me about it very calmly. I felt excited to do it.
After it, I ordered a book named "Target America" from a shopping website. I paid for it through my credit card. I bought it at a cheap rate. To be honest, I love to read books in my leisure time especially books related to adventures. I was immensely glad by thinking about my ordered book because that was the first thing which I purchased from a shopping website.
When I received it, the book was packed. I removed its packing and felt highly elated. But suddenly, when I saw a book, I felt astonished by seeing the condition of the book. That book was looking like a second-hand book and dull in color. I got angry because I had paid for it but cheated.
Furthermore, I send an email in the complaint box of shopping website from which I bought a book. After two days later from this incident, I got a reply from that website in which manager of that website apologized to me. But did nothing such as returning the money.
All in all, that was the time when I was cheated by a shopping website. I know very well that all the shopping website are not providing bad service but there are some shopping websites which cheat customers.
Sample 2:-
Well! life is full of experiences. There are lots of situations when people don't said complete truth, or lied to you or hide some things due to some reason or play a card to you. Here, I would like to talk about an occasion that was my birthday where I had also faced things like this. On my birthday, my mother and friends did not tell me the truth. Actually, I was in my class. I was attending the lecture and suddenly, my phone was rung. It was Avneet and he asked me where you are. I told him that I am in a class and I'm running late to my home.
Furthermore, he told me that we have to go to the railway station to pick one friend of ours. I told him clearly that I'm busy and can't come with you. So, I put my phone. And after attending my class, I call my mother and asked about tonight plans or asked that have you planned something for tonight or not?
Then, my mother told me that you just come to a home and then we will plan something.  So, I went home in the evening. My cousin was there and I told her about all day. We were talked about an hour and Then, suddenly I saw all close friends, my mother had come from my room. I wonder like what are you doing there? they said to me that you just go to your room.
Moreover, when I entered my room, I got amazed and see my room was fully decorated. There were 3 cakes on my bed. They said to cut them and celebrate the birthday. Firstly, I thanked them and then cut the cakes and collect a lot of memories. So, this was the time, when they cheated me to just for celebrating my birthday.
FOLLOW UPS QUESTIONS:
Question: What is the definition of cheating?
Answer: Cheating is when you act dishonesty and unfairly to get an advantage. there are many types of people who cheat in different sorts like, students cheat in an exam, kids cheat on their parents for some mistakes and many more types of cases in every city, the country also.
Question: Have you ever cheated?
Answer: yes, I remembered in 5th standard in cheated in my science exam because that time I did not have an interest in a science subject and I made cheating paper with the help of my friend. after it, I never cheat myself and any buddy.
Question: Do you feel everyone cheats in relationships?
Answer: I do not think everybody cheats and the reason why is because, I think it's about your morals, values, self-respect, and self-control. cheating also a choice. You either choose to cheat or not as well as, its depend on the relation. sometimes people cheat in relation for a good reason and many folks are say lie for save the happiness and relationship.
Question: Do you think if people stopped cheating the world would be a better place?
Answer: definitely, if folks stopped the cheating in every situation world will be more peaceful with it, maybe people achieve little less but it makes sure they live happy and fearless. children also get good moral values and knowledge.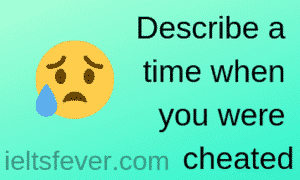 Also, like our Facebook page IELTSFEVER