You have a Facebook friend living in another country and she/he is curious to learn about a major news item in your country.
Write a letter to your Facebook friend. In your letter
-describe a news story in your country.
-explain why people are interested in it.
-say how the story personally relates to you.
Dear Amber,
I hope you are in pink of your health. I received your letter last week in which you asked me for interesting news about India. Now I am glad to share with you news that is quite popular nowadays. This news is about the tallest "Statue of unity" which constructed recently.
Our P.M Mr. Narinder Modi dedicated to nation 182-m tall statue of Sardar Vallabh Bhai Patel. This statue attracts everyone all over the world because it is 2 times taller than "Statue of Liberty" in the U.S. everyone in India feel proud to be an Indian.
I also appreciate the idea of Mr. Narinder Modi. It helps the local people with employees who live near that place. One thing that fascinates me most is that on 15 November 2018 Capture this statue from space through satellite. I know after knowing this news you also want to visit it. So, I am waiting for you when you will come to India we both will plan to travel Gujarat to see the real beauty of a statue.
See you soon and hope you are happy with this update
With love,
Manpreet Kaur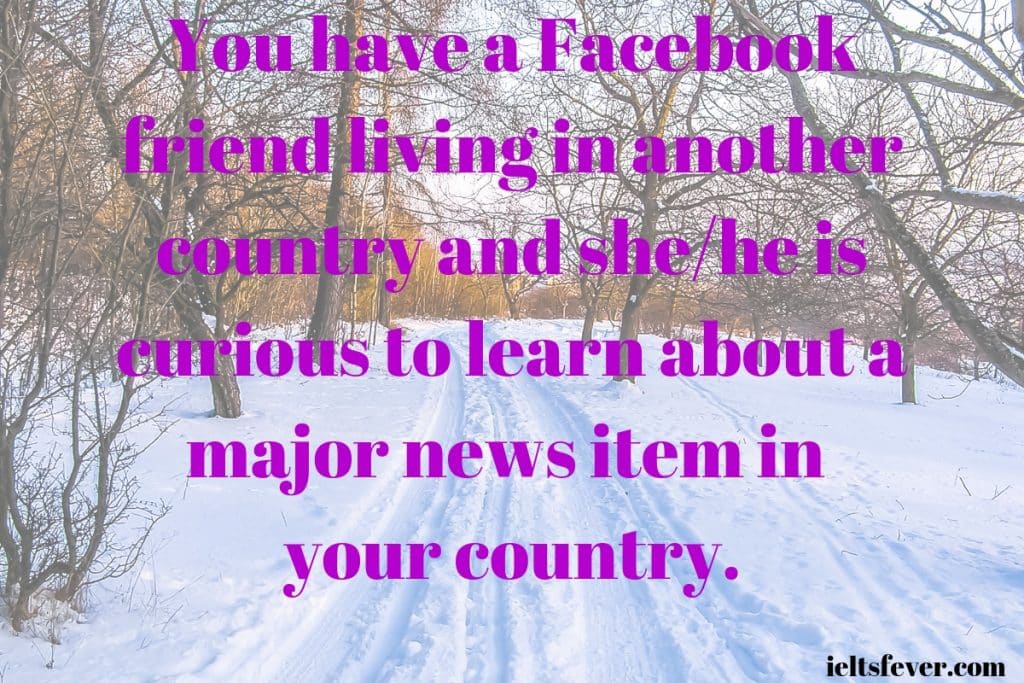 Do you agree or disagree with the following statement? Television, newspaper, magazine and other media pay too much attention to the personal lives of famous people such as public figures and celebrities IELTS EXAM
Nowadays, people get information through news and papers, but meanwhile, are uncertain about the truth of this news. Should we believe the journalists? What qualities should a good journalist or correspondent have?
You have a Facebook friend living in another country and she/he is curious to learn about a major news item in your country