Dear students here are the IELTSFever academic reading practice test 9 answers. (Passage 1 Iceman, Passage 2 Stress, Passage 3 Mat Design, And Foot Health ) Dear pupils if you need to clear your doubts regarding these answers you can ask any question throw our email or you can mention your query in the comments section. or send your questions on our IELTSfever facebook page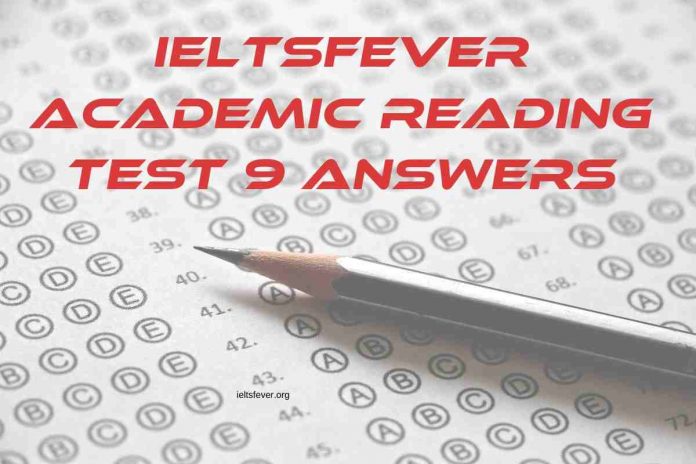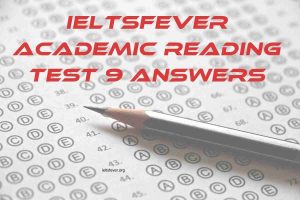 IELTSFever Academic Reading Test 9 Answers
| | | | |
| --- | --- | --- | --- |
| 1 | E | 21 | A |
| 2 | G | 22 | WORKPLACE INJURY |
| 3 | H | 23 | 16.6 WEEKS |
| 4 | B | 24 | 7.00% |
| 5 | F | 25 | GOLF |
| 6 | NO | 26 | MASSAGE |
| 7 | NOT GIVEN | 27 | WORKLOADS |
| 8 | NO | 28 | TRUE |
| 9 | YES | 29 | FALSE |
| 10 | REFRIGERATED HIGH-TECH | 30 | TRUE |
| 11 | STOMACH DISTRESS | 31 | NOT GIVEN |
| 12 | NECHERA COMPLANATA | 32 | NOT GIVEN |
| 13 | STRAIGHT | 33 | C |
| 14 | A | 34 | B |
| 15 | D | 35 | A |
| 16 | B | 36 | PARALLEL |
| 17 | D | 37 | STRESS |
| 18 | C | 38 | REDUCTION |
| 19 | B | 39 | SOLES |
| 20 | D | 40 | PATHWAY / WALKWAY |
Test Answers
IELTSFever Academic Reading Test 8 Answers
Academic Reading Test 7 Answers
IELTSFever Academic Reading Test 6 Answers
Academic Reading Practice Test 5 Answers
Ieltsfever academic reading practice test 4 answers
for Ieltsfever academic reading practice test 3 answers
check Ieltsfever academic reading practice test 2 answers
Ieltsfever academic reading practice test 1 answers
You can also read the following writing task 2 with answers for the IELTS exam
Sample 1
In many countries, very few young people read newspapers or follow the news on TV. what do you think are the cause of this? What solutions can you suggest?
Sample 2
Some people believe that teenagers should concentrate on all school subjects. But others believe that teenage should focus on the subject that they are best at or that they find the most interest.
Sample 3
Research indicates that the characteristics we are born with have much more influence on our personality and development than any experiences we may have in our life. Which do you consider to be the major influence?
Sample 4
Some people think governments should spend money on measures to save languages with few speakers from dying out completely. Others think this is a waste of financial resources. Discuss both views and give your opinion.
IELTSFever Academic Reading Test 9 Answers Iceman Stress Mat Design And Foot Health