IELTSFever FREE Online Mock Test Day 379 Recent Exam Tests Must Read These Instructions before participating in Exam.
The answer to every question is mandatory; otherwise, we will not accept it. Send your answers to [email protected] with your name, and city along with the question Test Number like IELTSFever FREE Online Mock Test Day 379 ( in the subject field of email), and you must send us the answer within 24 hours of the question.  We will not respond to late answers, and without a name, or without question Number, no answer will be considered. For any help, you can contact us on the IELTSfever Instagram Page and Telegram channel For IELTS Reading Tests and Listening Tests click here
IELTSFever FREE Online Mock Test Day 379
Academic Writing Task 1
The graph below shows the percentage of people going to cinemas in one European country on different days. Summarize the information by selecting and reporting the main features and making comparisons where relevant.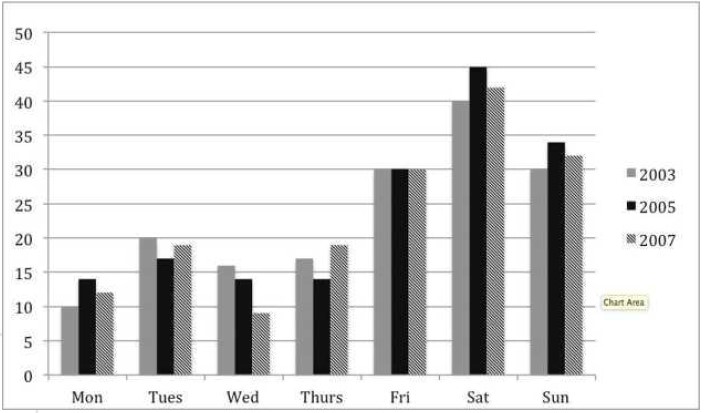 ---
General Writing Task 1
You have recently attended a job interview which went well, but you are still waiting for the decision. Write a letter to HR manager of the company and say
– Give details of the job.
– Why do you think the interview went well?
– Why do you need to know the result?
---
General / Academic Writing Task 2
Some people think that the best way to be successful in life is to get a university education. Others disagree and say this is no longer true. Discuss both views and give your own opinion.
---
ACADEMIC / GENERAL SPEAKING
Part 1 Trees
Question 1. What kind of trees do people usually plant in your country? How about your hometown?
Question 2. Have you ever planted trees?
Question 3. What kind of trees do you plant?
Question 4. Do you like planting trees and why?
Question 5. Is there a forest near your hometown?
Question 6. Would you like to live in a place that has many trees?
Question 7. Do you think places with trees attract more visitors than a place with few trees?
Question 8. Did you ever climb a tree when you were a child?
Part 2 Cue Card
Describe something you bought that was difficult to use at first. You should say:
What is it?
When did you buy it?
What does it do?
Explain how difficult was it to be used?
Part 3 Questions
What type of products is difficult to use at first?
What are the benefits of online shopping?
What are the disadvantages of online shopping?
Why do some people buy only branded items?