IELTSFever FREE Online Mock Test Day 404 Recent Exam Tests Must Read These Instructions before participating in Exam.
The answer to every question is mandatory; otherwise, we will not accept it. Send your answers to [email protected] with your name, and city along with the question Test Number like IELTSFever FREE Online Mock Test Day 404( in the subject field of email), and you must send us the answer within 24 hours of the question.  We will not respond to late answers; no answer will be considered without a name or question number. For any help, you can contact us on the IELTSfever Instagram Page and Telegram channel For IELTS Reading Tests and Listening Tests click here
IELTSFever FREE Online Mock Test Day 404
Academic Writing Task 1
The graph below shows the number of shops that closed and the number of new shops that opened in one country between 2011 and 2018. Summarise the information by selecting and reporting the main features, and make relevant comparisons.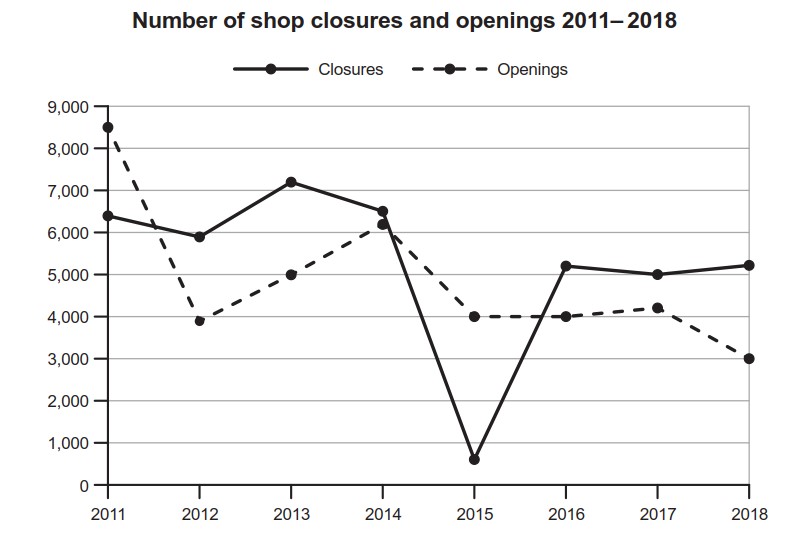 ---
General Writing Task 1
You are due to move into a rented apartment next month, but you will not be able to because you have some problems.
Write a letter to the landlord. In your letter:
explain your situation
describe your problems
tell him/her when you think you can move in
---
General / Academic Writing Task 2
People living in the 21st century have a better life quality than people who lived in previous times. To what extent do you agree or disagree?
---
ACADEMIC / GENERAL SPEAKING
Part 1 Volunteer Works
Have you ever worked before?
What was your first day at work like?
What responsibilities did you have at work?
What was your typical day like at work?
Have you taken any volunteer work?
Why did you do the volunteer work?
Do you know any volunteers?
How do you define volunteer work?
Part 2 Cue Card
Describe something that surprised you
What it is?
How did you find out about it?
What you did do?
And explain whether it made you happy.
Part 3 Questions
Do you like surprises?
What has been the biggest surprise in your life?
What do you think is the most surprising thing about you?
What surprised you about getting old?
How do you feel when you do not get any surprise on your birthday?
What is the importance of surprises?
Is there any pressure on us to buy presents?
Do Indian people often give surprises?
What's the value of giving surprises?
Describe some of the surprises that Indian people give each other on different occasions.
Do children prefer receiving gifts or spending happy time with their parents?