IELTSFever FREE Online Mock Test Day 483 Recent Exam Tests Must Read These Instructions before participating in Exam.
The answer to every question is mandatory; otherwise, we will not accept it. Send your answers to [email protected] with your name and city along with the question Test Number, like IELTSFever FREE Online Mock Test Day 483 ( in the subject field of email), and you must send us the answer within 24 hours of the question. We will not respond to late answers; no answer will be considered without a name or question number. For any help, you can contact us on the IELTSfever Instagram Page and Telegram channel. For IELTS Reading Tests and Listening Tests, click here
IELTSFever FREE Online Mock Test Day 483
Academic Writing Task 1
The pie charts below show the online sales for retail sectors in New Zealand in 2003 and 2013. Summarise the information by selecting and reporting the main features, and make comparisons where relevant.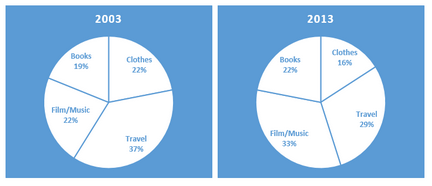 ---
General Writing Task 1
The street where you live is very polluted. Write to the local council and ask them to act on this situation. You should say:
What is the main problem?
How does it affect your street?
Give some suggestions and request action.
---
General / Academic Writing Task 2
Many governments think that economic progress is their most important goal. Some people, however, think that other types of progress are equally important for a country. Discuss both these views and give your own opinion.
---
ACADEMIC / GENERAL SPEAKING
Part 1 Singing
Do You think singing can bring happiness to people?
Do you often sing
Where do you like to sing
What kind of music do you like to sing
Is it difficult to sing well?
Do you want to be a singer
Part 2 Cue Card
Describe a present that you gave someone. You should say:
Who you gave it to?
Why did you decide to give them a present?
Why you chose that present?
And say how that present compares to other presents you have given that person or other people.
Part 3 Questions
What is the importance of gifts?
Is there any pressure on us to buy presents?
Do Indian people often give gifts?
What's the value of giving presents?
What kinds of gifts are suitable for friends to give each other?