IELTSFever FREE Online Mock Test Day 621 Recent Exam Tests Must Read These Instructions before participating in Exam.
The answer to every question is mandatory; otherwise, we will not accept it. Send your answers to [email protected] with your name and city along with the question Test Number, like IELTSFever FREE Online Mock Test Day 621 ( in the subject field of email), and you must send us the answer within 24 hours of the question. We will not respond to late answers; no answer will be considered without a name or question number. For any help, you can contact us on the IELTSfever Instagram Page and Telegram channel. For IELTS Reading Tests and Listening Tests, click here. 

IELTSFever FREE Online Mock Test Day 621
Academic Writing Task 1
The line graph shows the average number of weekly patients visiting four clinics of a hospital from 2010 to 2016. Summarise the information by selecting and reporting the main features and make comparisons where relevant.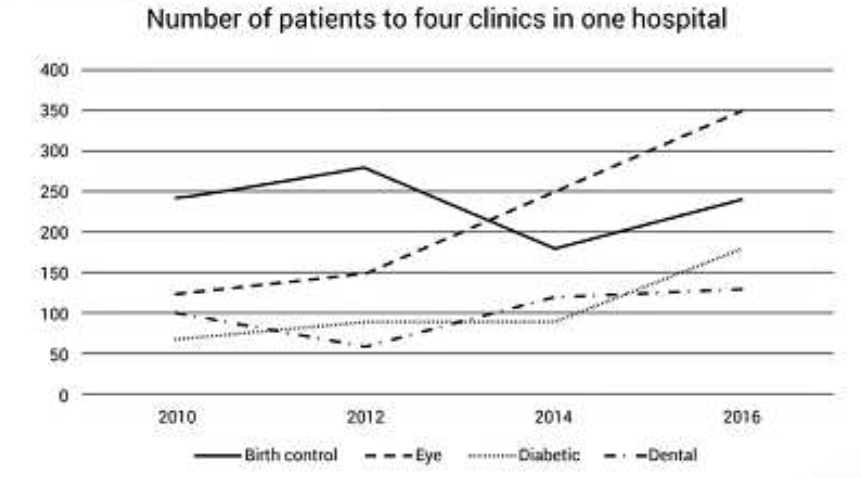 ---
General Writing Task 1
You traveled by plane last week, and your suitcase was lost. You have still heard nothing from the airline company. Write to the airline.
Explain what happened.
Describe your suitcase and tell them what was in it.
Find out what they are going to do about it.
---
General / Academic Writing Task 2
Historical objects should be brought back to their country of origin. To what extent do you agree or disagree?
---
ACADEMIC / GENERAL SPEAKING
Part 1  (Accommodation & Hometown)
Where is your hometown?
What do you like about it?
What do you not like about it?
How important is your hometown to you?
Do you think you will continue to live in your hometown?
Tell me about the kind of accommodation you live in?
Does the place you live in have many amenities?
Is there anything you would like to change about the place you live in?
Do you plan to live there for a long time?
Part 2 Cue Card
Describe an occasion when you spent time with a young child
When was it?
Who was the child?
Why did you spend time with the child?
Explain what you did and how you feel.
Part 3 Questions
Do you think there are too many rules for young children to follow, whether at school or at home?
Do you think children should follow all the rules?
Do you think it's necessary for parents to take decisions for their children?
Do you think it's good for parents to help children choose friends?
Where do children usually play?
While traveling with children, which of the parents takes more care of the children?
How do parents teach children to respect people?
Do outdoor activities help children?
What is the difference between the outdoor activities children play now and before?