IELTSFever FREE Online Mock Test Day 625 Recent Exam Tests Must Read These Instructions before participating in Exam.
The answer to every question is mandatory; otherwise, we will not accept it. Send your answers to [email protected] with your name and city along with the question Test Number, like IELTSFever FREE Online Mock Test Day 625 ( in the subject field of email), and you must send us the answer within 24 hours of the question. We will not respond to late answers; no answer will be considered without a name or question number. For any help, you can contact us on the IELTSfever Instagram Page and Telegram channel. For IELTS Reading Tests and Listening Tests, click here. 

IELTSFever FREE Online Mock Test Day 625
Academic Writing Task 1
The two bar charts show the proportion of 14-16 years-old students studying a modern foreign language in an English-speaking country and the top three popular foreign languages. Summarise the information by selecting and reporting the main features and make comparisons where relevant.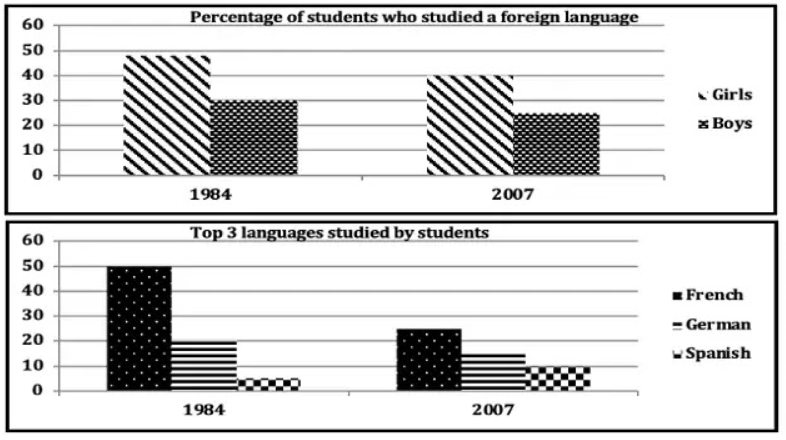 ---
General Writing Task 1
You have bought a new mobile phone, and within a few days of purchase, it stopped working. You spoke to the company representative a week ago, but it has still not been repaired. Write a letter to the company. In your letter,
Introduce yourself.
Explain the situation.
Say what action you would like the company to take.
---
General / Academic Writing Task 2
Around the world, people are now living longer than ever before in the past. Some say an aging population creates problems for governments. Others believe there are benefits to society having more elderly people. To what extent do the advantages of possessing an aging population outweigh the disadvantages?
---
ACADEMIC / GENERAL SPEAKING
Part 1  (Hometown)
Can you tell me about your hometown?
How has your hometown changed over the years?
Is there any way your hometown could be made better?
Are there good transportation links to your hometown?
What kind of jobs do the people in your hometown do?
Do you have a lot of friends?
Who is your best friend and why?
Who would you most like to be friends with and why?
What kind of person can you make friends with easily?
Which is more important to you, friends or family?
Part 2 Cue Card
Describe a time when you lost your way.
When and where did it happen?
How did you feel when you were lost?
How did you find your way out?
Part 3 Questions
How do people feel when they get lost?
Are some people better at orienting themselves?
Are young people more reliant on their phones than older people to find their way?
Are young people gradually losing their ability to orient themselves?
With mobile phones and these electronic products with navigation, is it difficult for people to get lost?
What kind of problems do old people have when they get lost?
Some people like to walk around without navigation, is there any problem?