IELTSFever FREE Online Test 16(17-08-2020)
Must Read This Instructions before participating in Exam
SPONSERSs
The answer to each and every question is mandatory otherwise we will not accept it. Send your answers on [email protected] with your name, city along with question( in the subject field of email), and must send us the answer within 24 hours of question.  We will not respond to late answers and without a name, question no answer will be considered.
---
Academic Writing Task 1
You should spend about 20 minutes on this task.
The graph and table below give information about water use worldwide and water consumption in two
different countries.
Summarize the information by selecting and reporting the features and make comparisons where relevant.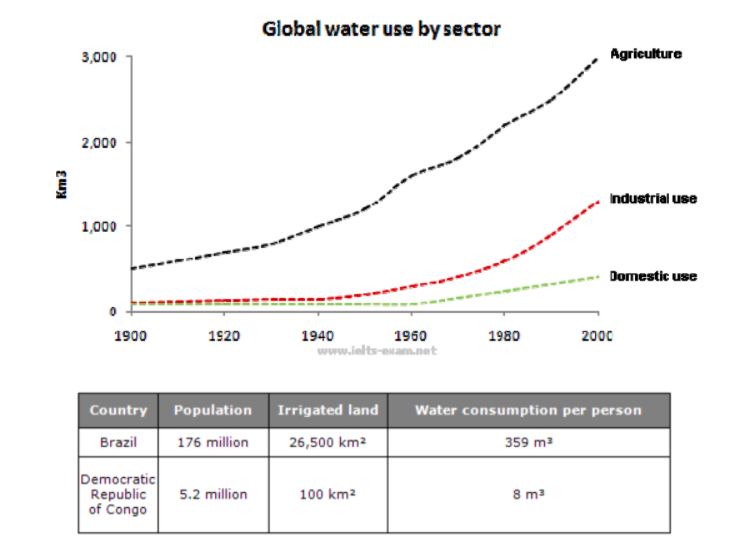 You should write at least 150 words.
---
General  Writing Task 1
spend about 20 minutes on this task.
You saw an advertisement for a tennis course in England but you have one or two problems and can't stay the whole course.
Write a letter to the course director. In your letter,
explain your interest in the course
describe your problems
find out if a refund is possible
---
Academic  /General Writing Task 2
Some people choose to eat no meat or fish. They believe that this is not only better for their own health but also benefits the world as a whole.
Discuss this view and give your own opinion.
---
Academic /General speaking 
Describe a time when you traveled by public transportation?
You should say:
When you traveled?
Where you traveled?
What was the purpose of your travel?
How did you feel about it?
---
IELTSFever FREE Online Test 16(17-08-2020)
---
For Other Updates Follow Us on Twitter