IELTSFever FREE Online Test Day 38 (21-10-2020) 
Must Read These Instructions before participating in Exam
The answer to each and every question is mandatory otherwise we will not accept it. Send your answers to [email protected] with your name, city along with the question ( in the subject field of email), and must send us the answer within 24 hours of the question.  We will not respond to late answers and without a name, question no answer will be considered.
---

Academic Writing Task 1
The two pie charts below show the percentages of industry sectors' contribution to the economy of Turkey in 2000 and 2016.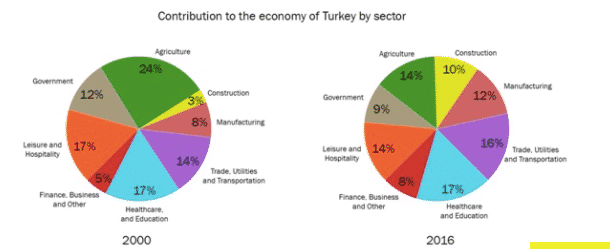 Summarize the information by selecting and reporting the main features and make comparisons where relevant.
---
General  Writing Task
You relocated to a new country for work. Write to your previous co-worker. In your letter
– Tell him/her where you live in the new country
– Describe how you feel
– Explain what you are doing at work
– Invite him/her for a visit.
---
General/ Academic Writing Task 2
Some people think that it is fine for professional sportsmen and sportswomen to misbehave on or off the field, as long as they are playing well. Do you agree or disagree with this statement?
---
Academic /General speaking
Describe a conversation topic you were not interested in.
You should say
Who you talked with?
When you had the conversation?
What was the topic?
And explain why you were not interested?
---
IELTSFever FREE Online Test Day 38 (21-10-2020) 
For Other Updates Follow Us on Twitter