IELTSFever FREE Online Test Day 82 Must Read These Instructions before participating in Exam
The answer to each and every question is mandatory otherwise we will not accept it. Send your answers to [email protected] with your name, city along with the question Test Number like IELTSFever FREE Online Test Day 82 ( in the subject field of email), and must send us the answer within 24 hours of the question.  We will not respond to late answers and without a name, question no answer will be considered. For any help, you can contact on IELTSfever Facebook regarding IELTSFever FREE Online Test Day 82
---
ACADEMIC WRITING TASK 1
The graphs show changes in the spending habits of people in the UK between 1971 and 2001. Write a report to a university lecturer describing the data. Write at least 150 words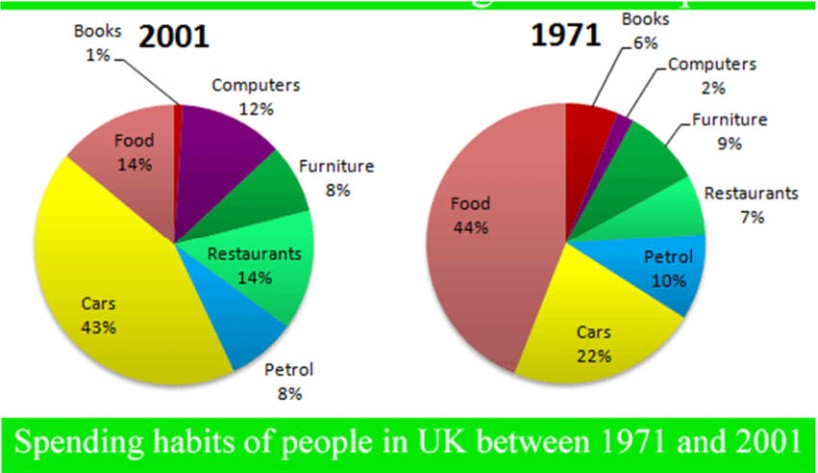 ---
GENERAL  WRITING TASK 1 IELTSFever FREE Online Test Day 82
You have completed the course and received a certificate, but you lost it on the way back. Write a letter to the Principal of the college. In your letter, you should tell:
how you lost the certificate
why you need it
what you expect the principal to do.
---
GENERAL / ACADEMIC WRITING TASK 2
Today many children spend a lot of time playing computer games and little time on sports. Why is it? Is it positive or negative development?
---
ACADEMIC / GENERAL SPEAKING
Part 1 Questions
What is your morning routine?
Is Breakfast important?
Do you like Reading?
What books do you like to read?
Which book did you read recently?
What did you learn from it?
Why do parents make children read books at an early age?
Why was your favorite book as a child?
Should reading be a compulsory activity for children at school?
Part 2 Cue Card
Describe a piece of international news you have just recently heard.
You should say
What the news is about?
Where and when you heard it?
What you were doing when you heard the news?
Explain how you felt about this piece of international news?
Part 3 Follow-Ups 
What is your newspaper reading style?
Do you think reading international news is important?
News that you have described do you think will impact the world? If yes then how?