IELTSFever FREE Online Test Day 92 Must Read These Instructions before participating in Exam.
The answer to every question is mandatory; otherwise, we will not accept it. Send your answers to [email protected] with your name, city along with the question Test Number like IELTSFever FREE Online Test Day 92 ( in the subject field of email), and you must send us the answer within 24 hours of the question.  We will not respond to late answers, and without a name, question no answer will be considered. For any help, you can contact on IELTSfever Facebook Page regarding IELTSFever FREE Online Test Day 92
Academic Writing Task 1
The bar chart below shows the total number of minutes (in billions) of telephone calls in Australia,
divided into three categories, from 2001- 2008. Summarise the information by selecting and reporting the main features and make comparisons where relevant. Write at least 150 words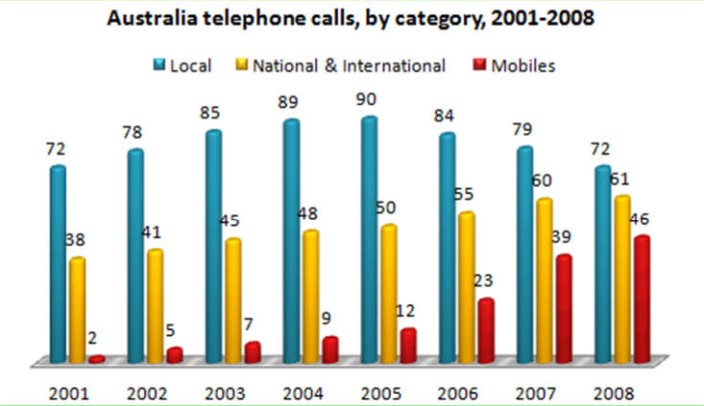 General Writing Task 1
Write a letter to the newspaper editor about the mistake they made in an article.
In your letter, you should:
Explain what the mistake is
Suggest how to correct that mistake
---
General / Academic Writing Task 2
Young people have different ideas and attitudes than their parents and grandparents. What are the differences, and what problem may it cause?
---
Academic / General Speaking
Part 1 Questions
Do you use perfume?

What kind of perfume do you like?

What does perfume mean to you?

Do you give perfume as a gift?

What do street markets sell?

Are there many street markets in your country?

What are the differences between street markets and supermarkets?

Do you often go to the supermarket?
Part 2 Speaking cue Card
Talk about a new startup in the society cue card
What do you know about the startups

What are the advantages

What can be the potential disadvantages